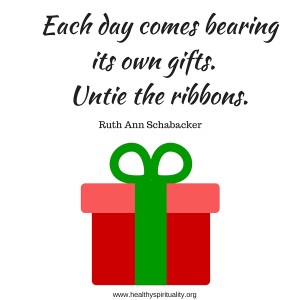 I love discovering and finding fun and terrific tools to nourish my faith and make life easier. I thought it would be fun to showcase some of my 2015 favorite finds and maybe give you some ideas for a gift or two for someone else or maybe even for yourself.
What are my 2015 favorite mostly faith-related finds?
My favorite books I read this year:
Rising Strong by Brene Brown. The subtitle says it all – "If we are brave enough, often enough, we will fall. This is a book about what it takes to get back up."


Big Magic – Creative Living beyond Fear by Elizabeth Gilbert. Inspirational and empowering by giving us permission to nourish our creativity as we were made to do.



Essentialism, the disciplined pursuit of less by Greg McKeown. This book cultivates simplicity by being more selective with the power of choice and choosing what really matters to us.
In God's Holy Light – Wisdom from the Desert Monastics by Joan Chittister. If you have read Healthy Spirituality for long you know I love to glean the wisdom from people of faith. Joan Chittister is a current wise one and the Desert Mothers and Fathers are ancient wisdom. Combining them into one book of course leads to a favorite read for me.
A Diary of Private Prayer – John Baille. I wrote about this old, old book in August on this post but this book even with its archaic language – thou's and thines – continue to feed my prayer life. Often I stop at just one sentence and ponder its wisdom. Read more about it on my post but love this book. 
I asked Santa to bring me a new Bible, the ESV Single Column Journaling Bible. This one is different from what I have as it has a wide margin for journaling, keeping notes, and free drawing how God is inviting me into his word. I am excited about this new format for me and will keep you posted on how I like it.
Many journal keepers also need/crave some colorful pens, pencils and washi tape to add a bit of flair to their words. I never heard of washi tape before this year and find so many people are using it to add color to their journals and planners. Where have I been?
And I love planners. Am trying some new ones this year so will report on how I like them later but the one I am most excited about is the Epic Blog Planner.
I began using a Prayer Box this year to help me let go of my prayer concerns and give them over to God. You can read about this practice on this post. Later I found these cute prayer boxes instead of the cardboard one I started with. I think these would make darling gifts for friends and family.
Have you gotten in the adult coloring book rage? Here are a few of my favorite finds:
I just recently discovered Candleberry Candles – I wanted my prayer space to smell special. The scent of these candles lingers long after the flame is out. I am not usually a candle person but am now with this brand.
When we visited the Dead Sea in 2014, I purchased hand cream with nutrients found in the Dead Sea. This is the best cream for my hands I have ever found. Love it.
Norvex cloths – these cleaning cloths are expensive but absolutely wonderful. My windows shine and have no streaks. You don't have to use chemicals and everything seems to stay cleaner longer.
Found these adorable prints in the Outer Banks on our trip there in September where I bought this cute light dragon fly light switch cover by Stephanie Kiker anda couple of spiritual prints at the Spiritual Director International meeting last spring.  The one with jars of mud is by Melanie Weidner at listenforjoy.com
Also fell in love with Curly Girl Cards. So cute and whimiscal
I hope this list gives you some new ideas for some fun, faith-related gifts. A few affiliate links are used here, which means at no extra cost to you, making a purchase by clicking these links helps support this site. Thanks!
How neat item did you discover this year that may be great gift ideas for us?