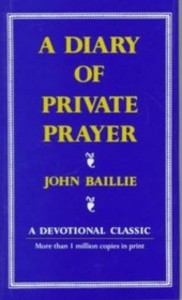 My mornings are blessed lately by rereading a classic – A Diary of Private Prayer by John Baillie. First published in 1936, A Diary of Private Prayer remains a devotional masterpiece with more than a million copies in print.
To be honest, this old book has been sitting on my shelf untouched for quite awhile. I don't remember buying it. I even don't know what made me find it a couple of weeks ago and put it by my Bible. This last week its words just called to me to open it and I was amazed and taken in by its wisdom.
Each prayer captures my deepest desire to love God more. His language is a beautiful devotional testament to his love for God. Each day has two pages, one titled Morning and the other Evening and there are 31 chapters for each of the days of a month.
The language is old – lots of "thees, thines and thous and didst" but the meaning is lovely. I simply translate them in my heart and mind to "you" and "did." This morning I read one aloud twice – once with the archaic words and then one in my own. Powerful moment of being with God.
This is the older version of this book but just found on Amazon, one with more updated language, edited by Susanna Wright. I am loving these prayers so much I think I will soon order the newer edition.
I wondered who John Baillie was anyway. Another of my longtime favorite authors is Richard Foster. I knew he wrote about various people's faith and sure enough found a chapter in Devotional Classics by Foster about Baillie.
Baillie was a Scottish theologian and served as the moderator of the General Assembly of the Church of Scotland in 1943. He lived from 1886-1960.
"Though he was a professor of systematic theology by trade, Baillie was not a theologian for whom God was merely speculative. Few theologians have done better at combining the mind and the heart than John Baillie. His devotional life was at the center of all his academic endeavors and he was able to find that delicate balance between faith and reason."
Richard Foster
Baillie wrote two other books that may be worth exploring: A Diary of Readings and The Sense of the Presence of God. I know I am listing Amazon links here but am now thinking wouldn't this be a fun search to look for these other two at used bookstores.
Here is an example of the morning prayer from Day 21:
"Dear Father, take this day's life into Thine own keeping.  Control all my thoughts and feelings. Direct all my energies.  Instruct my mind. Sustain my will. 
Take my hands and make them skillful to serve Thee. 
Take my feet and make them swift to do Thy bidding. 
Take my eyes and keep them fixed upon Thine everlasting beauty. 
Take my mouth and make it eloquent in testimony to Thy love. 
Make this day a day of obedience, a day of spiritual joy and peace. 
Make this day's work a little part of the work of the Kingdom of my Lord Christ, in whose name these my prayers are said. Amen."
Sometimes reading other people's prayer opens the door for your own deeper conversation with God. Read these prayers slowly and let them become your own.
Have you ever read this book?
How has other people's written prayers deepen your time with God?