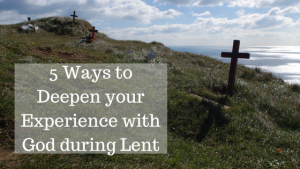 Lent is coming. This sacred season begins on Ash Wednesday, Feb. 14 this year. Isn't it cool we can spend time with the Lord of Love on Valentine's Day?
I wrote about this church season previously on the posts titled How to Observe Lent and Be Ready for Easter, and Are You Ready? Lent is Coming Quickly.
Here is a little video for you to enjoy. If you are reading this post through email, please come over to the blog if you can't see the video. I hope it inspires you:
Do you know what Lent means?
Lent is the 40 days before Easter, excluding Sundays. In French, the word "lent" means slow and is our invitation to slow down and be with God in new ways. How will you be transformed if each day we intentionally paused, prayed, and prepared ourselves for Easter?
How will you grow closer to God this season? Here are 5 ways to deepen your experience with God and to slow down before Easter:
Create a daily quiet time with God. Carve out in the morning or evening or whenever at least 10 minutes of silence and prayer. Read a Lenten devotional such as 40 Voices during this season.
Explore the resources online at sites such as Lenten Resources,  Creighton University's page and the Episcopal Church
Make pretzels to help shape your heart for prayer. Here is an article about how pretzels relate to this season and a recipe.  Pause and breath in the aroma of the pretzels baking in your kitchen. Focus on how the dough feels in your hands. Nibble and taste as you slowly enjoy eating them.
Pray about what brings you closer to God and add more of that during Lent. This could be silence, prayer, Bible readings, music. Pay attention what takes your heart away from God and fast from that during this season. Examples could be social media, television, high sugar foods, sarcasm, or using your credit card. You could fast from anxiety, speed, or busyness. Take something on — 40 days of letter writing, 40 acts of kindness, 40 phone calls to the important people in your life. Create a Lenten prayer altar.  Equipping Godly Women has a great post about this.
Find a special prayer to pray and ponder daily. Here are four powerful examples:
http://godspacelight.com/2015/03/13/do-it-anyway-a-lenten-prayer-by-mother-teresa/
http://godspacelight.com/2013/03/08/a-lenten-prayer-by-thomas-a-kempis/
http://godspacelight.com/2015/03/06/i-cannot-do-this-alone-a-lenten-prayer-by-dietrich-bonhoeffer/
http://godspacelight.com/2015/03/20/prayers-for-lent-by-desmond-tutu/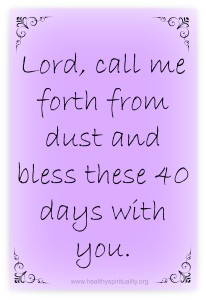 Lent can be a rich time of intimacy with God. Intentionally immerse yourself in this sacred season and be transformed in 40 days. God loves to surprise us in life-giving ways  – Pay attention and you will see his work in you and around you.
How do you plan to deepen your experience with God during Lent?
P. S. My devotional for this season is available on Amazon. Check it out either as an e-book or in print.