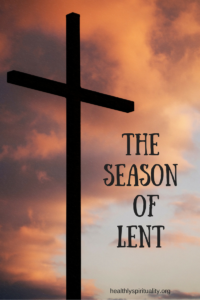 Lent is coming quickly. Are you ready?
I know, I know what you are thinking.  You just got Christmas put away. You barely remember your New Year's resolutions.  And the Super Bowl is finally over. You can't begin to think about the next holy season yet.
But you can do a few things to get your heart and mind ready for the Lenten Season. Let's talk about Lent this Tuesday and next week I will share with you some practices to consider trying during Lent.
What is Lent?
First, what is Lent?
The 40 days before Easter, not counting Sundays, comprised the season of Lent. It begins on Ash Wednesday which this year falls on March 1.
The word comes from the Anglo-Saxon word "lencten" meaning spring. The symbolism of 40 days represents the time Jesus spent in the wilderness preparing for his ministry and being tempted by Satan. I like the sound of spring, but hesitate at the temptation and wilderness portion.  LOL
Traditionally Lent is a time of repentance, fasting, and preparation for the coming of Easter. We are invited to reflect, remember, and ponder the story of Christ and what it means for our faith. In early Christianity, this was the time to prepare for baptism which begins our relationship with God and today, it is a time to deepen our relationship with God.
Many people associate this season with giving up something or some type of self denial. Lent also gives us the opportunity to give, serve, and pray more, too. Next week I will share some ideas for some of these practices.
Straight A's in Preparing for Lent
Think about what the cross means to your faith. When we pause and ponder the impact of Christ's crucifixion and resurrection, how can we not be changed by the Easter story? I know when I frame Lent with that knowledge, how can I not turn my heart towards God?
Preparing for Lent is worth my time and effort. Let's try for straight A's this year in our preparation.
Ask.  Ask God to help you prepare your heart for the Easter story. Come to him with an open and willing heart to hear his invitation and heed his direction for this season.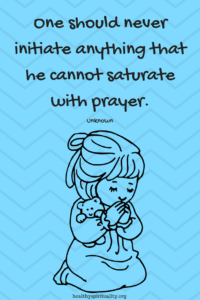 Anticipate.  Like a child eagerly awaiting Christmas, wouldn't it be great to have the same sense of expectancy and hope for the coming Easter morning?  Part of my preparation for this season is to fire up my mindset and my heart with a longing and joy for the 40 days. Just imagine the bountiful grace and love we can experience this year.
Aware and Attentive.  Pay attention to what God may be saying to you about the coming Lenten season. Is there a verse, word, symbol that may anchor this sacred time with God? These open hands represent my openness to receiving his word.  I put them by my Bible this week, next to where I have my morning devotions to remind me to be aware and attentive.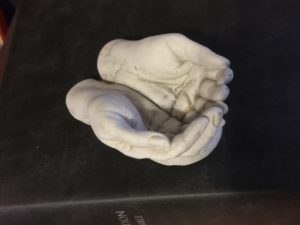 Abandon and/or Act Upon – I am listening deeply for God's direction if I need to let go of something during Lent or participate in certain acts of kindness/service. I don't know yet, but am staying awake to the possibility.
Aim. What is your intention during this season? What would draw you nearer to him?  What do you need to let go of to be closer to God? What is God inviting you to grow/learn? Be? Do? Do less?  I write in my journal and share with God that I do desire deeply for his word, his story, his love to shape my life and transform my heart. How will I grow these 40 days?
Henri Nouwen wrote this Lenten prayer, which is so fitting as we get ready for Lent.
"The Lenten season begins. It is a time to be with you, Lord, in a special way, a time to pray, to fast, and thus to follow you on your way to Jerusalem, to Golgotha, and to the final victory over death.
I am still so divided. I truly want to follow you, but I also want to follow my own desires and lend an ear to the voices that speak about prestige, success, pleasure, power, and influence. Help me to become deaf to these voices and more attentive to your voice, which calls me to choose the narrow road to life.
I know that Lent is going to be a very hard time for me. The choice for your way has to be made every moment of my life. I have to choose thoughts that are your thoughts, words that are your words, and actions that are your actions. There are not times or places without choices. And I know how deeply I resist choosing you.
Please, Lord, be with me at every moment and in every place. Give me the strength and the courage to live this season faithfully, so that, when Easter comes, I will be able to taste with joy the new life that you have prepared for me. Amen."
Some of the past posts here on Healthy Spirituality may also inspire you to get ready for Lent.
Is Your Heart Prepared for Lent?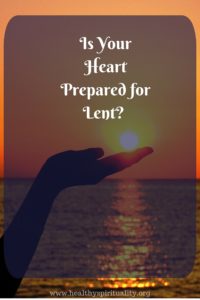 Next week I will share a variety of ideas to enhance your Lenten experience. One practice is finding a new devotional for these 40 days and guess what I just published: 40 Voices: A Lenten Devotional, which will soon be available on Amazon.  A couple of years ago I wrote an Advent devotional book which many people liked and would ask if I had one for Lent.  Now I do!  I am so excited!!!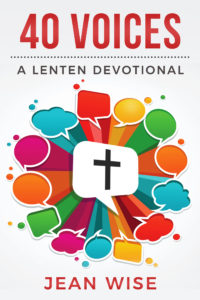 I am waiting final approval from Amazon and as soon as I receive that, I will share a link with you to check out the book.  I appreciate your support of my writing.
Lent is a wonderful season of growth, redemption, and grace if we give our hearts fully to its meaning.  Spending a little time to prepare will deepen our walk with Jesus these 40 days and be life giving to our faith.
May our Lord bless us all on this journey ahead.
How are you getting ready for Lent?