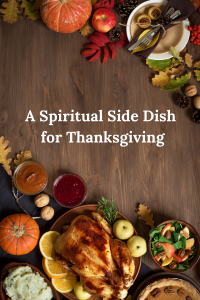 Thanksgiving is one of my favorite holidays. I love the family getting together. The delicious smells showering my kitchen. The turkey browning in the oven. The laughter and chatter even while washing the dishes and scrubbing the pans. I smile with the memories of past holidays with loved ones now in heaven and still in our hearts.
And of course, the side dishes. We will have my sister in law's sweet potato dish. Katie's homemade pumpkin pie. My mom's crockpot dressing. Good ol' green bean casserole and our family joke about needing the recipe to make it just right (We don't really but we always cut it out of the magazine ads each year and send it to each other) And cranberry jello the grandkids request and we all enjoy.
Gratitude for all God's gifts overwhelmed my heart this week as I got out the recipes and made these plans for Thursday.
Thank you for family.
Thank you for the ones not in our near bubble we can't be with this year. We miss them.
Thank you for facetime and zoom to see them anyway.
Thank you for nourishment.
Thank you for health.
Thank you for being able to walk and take deep breaths.
Thank you for the gift of each new day and simply waking up in the morning.
Thank you for the beauty of trees and the fun frolic of sparrows outside my window.
Thank you for the ability to hear the kids' giggles and to feel their hugs.
Thank you for books.
Thank you for music.
Thank you for hot showers and a solid roof over my head.
Thank you for delicious flavors of coffee and tea.
Thank you for bringing simple words to my heart each morning to bring into my day such as kindness, presence, and joy.
Thank you for listening to me complain and being patient with my despair and discouragement.
Thank you for being with us during 2020.
Thank you for the challenges that shape us and make us stronger. (This is one is harder to say but good to recognize)
Thank you for the good and love that sustains us during difficult time even when we don't fully understand nor see you, Lord.
Thankfulness is the best side dish of all.
What are you thankful for this year?
P.S. Advent begins soon and you may want to check out the Advent devotional I wrote a couple of years ago – available either e-book or print on Amazon.