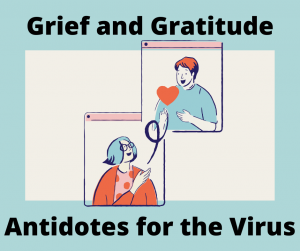 Could grief and gratitude be antidotes for the shroud of the coronavirus enveloping our hearts and minds?
I feel bombarded by every aspect of life impacted by this pandemic. Blogs. News. Texts. Emails. Memes. Advertisements. Conversations.
Pandemic comes from the Greek language – pan meaning all and demos being people. Something affecting all people. Not just the number of people but also the huge influence on individuals and society.
Coronavirus has hijacked our lives and consumed our time.
Grief
Last week I mentioned I am being aware of naming my emotions and the one that keeps rising within me to describe this discomfort I am experiencing is grief. Remember the feelings we undergo with grief?  Shock, disbelief, anger, sadness, resolution/acceptance.
One aspect of healing is to admit what we have lost. The loss of connection. The loss of worshiping together. The loss of work. The loss of life. The economic loss. The loss of vacation. The loss of a much-anticipated silent retreat. The loss of knowing what is next on the calendar. The loss of spring sports. The loss of the dream wedding. The loss of normalcy.
Let's name what is going on within us, mourn our losses, then move onward with more strength and wisdom.
One type of grief is anticipatory grief coming from uncertainty – when will this end? I wonder if our Disney trip this summer will also be canceled. What will my next paycheck amount to? Will there be a recession or worse, depression? What if my family gets sick?
Being an introvert, I have adjusted to sheltering at home. I know extroverts who feel like they are in jail and crawling up the walls. We grieve our loss of freedom and control. It is hard to let go of what we cannot control and seek the things we can control. Especially in this new strange land, we have entered.
We are all experiencing collective grief. Grief is often a lonely journey with ups and downs and surprising twists and turns, a time we hunger for support and hugs from family and friends. Isn't it ironic in our moment of mutual grief, we need to practice physical distancing?  Yet I have hope – I have been phoning different people within our parish to see how they are doing. Delightful interactions full of laughter, sharing, and connecting in a new yet deep way.
I am thankful for these phone calls.
Gratitude
I posted this on Facebook last week and was amazed at the response in the comments;
Today I am grateful for:
• Seeing the sunrise
• Lighting a candle while I pray
• The taste of a cinnamon roll with a freshly brewed cup of coffee
• Connecting with family and friend over the phone and social media
• The routine of ordinary chores, like emptying the dishwasher
• Food on my table
• Robins in my back yard
• Daffodils pushing up through the dark soil
• Washing my winter coat and pausing to be thankful I HAVE a winter coat
Thank you, Lord. What are you grateful for today?
I had a wonderful response and sharing thankfulness from friends. I felt better. I think they did too.
Gratitude heals our wounded spirits and soothes our shaken spirits like a salve. We grow stronger and more courageous when we are thankful. We focus more on God and our blessings and less on our sadness and loss.
During this turbulent time, we recognize the wide array of feelings, many stemming from grief. We then chose to be thankful, knowing the practice of gratitude brings healing.
And we WILL heal.
And grow.
And learn.
And be whole again.
What are you grateful for today? Have you experienced grief through this time? Let's share with one another.