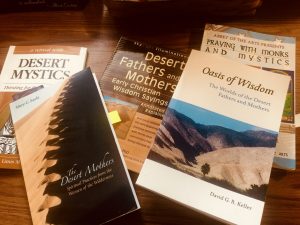 Do you know Amma Syncletica? With this being the year of prayer, I want to feature different people throughout 2018 who lived lives of prayer.
Beside exploring spiritual practices here at Healthy Spirituality, I love to present various people of faith who lives hold lessons for us and words give insight to our own spiritual journeys.
Meet Amma Syncletica – our featured person of faith for February. She is one of the best-known Desert Mothers.
The Desert Mothers and Fathers lived in the 3rd and 4th centuries. As Christianity became accepted as an approved faith and no longer opposed by the governments, Christians continued to hunger for a deeper relationship with God. Groups of men and women lived in the desert or just outside of the cities in the Middle East and became known as the Desert Mothers and Fathers. Many of them lived like hermits, living in caves but did gather into communities periodically. Others sought them out to learn from them so many of them were rarely alone. They lived a humble, simple existence.
A few years back I began a self-study of the Desert Mothers and Fathers. I wrote a series about them and you may like to reread these posts:
7 Practices of the Desert Mothers and Fathers
Did you know I was an Amma? At least that is what my grandkids call me. Well, not as an expert or full of wisdom, but Amma or now as they have modified it (to keep me humble I believe LOL) Ammie, I wrote about discovering my role and name for grandmother here and it is my hope and prayer I can be that wise person in their lives.
Now back to Amma Syncletica.
Who was Amma Syncletica?
Syncletica was born in Alexandria, Egypt in 380 CE into a wealthy family. She even received an education at that time too. Her parents were devout Christians and they were well known in the Christian community in that region.
When her parents died, she gave away all that she had to the poor and committed her life to prayer. Along with her blind sister, she journeyed into the desert to live as a hermit. Her intent was to seek God in stillness and solitude but slowly other women began gathering around her for her wisdom and leadership.
She is one of the spiritual teachers most remembered from this era and her sayings survive in several ancient collections.
Lessons from Amma Syncletica
Syncletica lives a life of prayer, meditation of scripture and deepening love for God. Her devotion inspired those around her and continues yet today to guide us closer to God.
Her practice of intentional solitude and stillness is a lesson for all of us in the noisy chaos of the world today. We can't all run off to the desert, leaving families and responsibilities but we can make the effect to find snippets of time with God through the pockets of each day. And carve out with purpose planned Desert Days (see this post) and longer retreats.
Syncletica warned her followers to "stay awake as temptation lurks in the crannies of the mind, stirring up a battle of the spirit for you."  Doesn't that sound so true? I am slowly learning the value of being mindful, staying alert to those old habits and outside distractions waiting to take me off track from my deepest desire to be with God.
"We must direct our souls with discernment."  Choose well is a lesson I hear from Amma Syncletica. I want to live a life where I slow down and choose with intention the path before me. We live in a world full of options – many good but most not the "best yes."
David writes in his book, Oasis of Wisdom, The Worlds of the Desert Fathers and Mothers:
"Her withdrawal from the futile conventions of Alexandrian society was motivated by an intentional desire for a more authentic human life grounded in a disciplined life of prayer, self-knowledge, humble dependence on God and love of neighbor. Some twenty-first century voices would tell Syncletica to 'get real.' This is precisely what she did. She left a society that was content with living on the surface of life and took the risk of directing her energy and heart to what she believed is the root of human life: our relationship with God."
Wow, let's get real and join Syncletica with deepening our relationship with our Creator!
Amma Syncletica and the Divine Fire
Perhaps the most famous of Syncletica's sayings is this one:
"It is a struggle and great toil at first for those who approach God, but then it is unspeakable joy. Just as they who want to start a fire are engulfed in smoke and reduced to tears at first and in this way attain the desired object, so too – for it says, "Our God is a consuming fire" [Hebrews 12:29] – must we start the divine fire within ourselves with tears and toil."
Living a life of prayer isn't easy. We have to be intentional, turning our hearts to God. We can't allow the time and the "getting things done" monsters distract us from creating space for God in all of our moments.
Syncletica's life is an example of humility, devotion, and prayer. What legacy for us to leave too.
Had you heard of this Amma? What does reading about her stir up within your heart?
BLOG UPDATE:  Just a note, I am traveling out of state this week, so there won't be a blog post as usual this Thursday.  Will be back to normal routine next week. Blessings on your week!