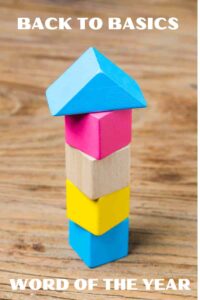 Back to basics is the theme for the next few weeks here on Healthy Spirituality. A fitting topic for September and for our spiritual journeys. September is often called the second new year – a time for fresh starts and reenergized actions. An invitation to review what practices are most life-giving for us and are we honestly making the most of them.
I know my essential practices as I mentioned last week are gratitude, journaling, prayer, and sacred reading.  Duh! I totally forgot one of my fundamentals disciplines that has nourished my soul quite a bit these last few years.  Exploring a word of the year.
Back to Basics with Word of the Year Practice
At the end of the previous year I begin a list of possible words/themes to guide me in the new year. I am grateful Lisa Burgess to offer a community and prompts to give us ideas how to dig deeper into our words.
Usually, a word or phrase is simple, easy to remember and flexible by taking us many directions to explore. I've learned the little unglamourous words often reveal the most lessons.
In 2023 a phrase rose in my heart: Honoring the Thirst Deep Within.  These words have guided me in prayer. Each on taking a turn leading me deeper into wonder and discovery. The game of seeing the word in readings, Bible verses, spoken in conversations, sermons, on plaques in Hobby Lobby – continue to surprise me and bring me joy.
Staying with a word of the year takes time, focus, and frequent revisiting. Isn't that true of all our essential practices? I know when I apply the actions that feed my soul on a regular basis, I am stronger and feel loved and held by God. Consistency isn't glamorous but it is effective. I am not so rigid to force myself on a fixed schedule and feel shame when I can't keep up, but I try to give myself grace in the daily demands of life. Regular nourishment sustains my soul.
A word of the year contains the seed of new life – a refreshing sustenance for our spirit. A practice that deepens my walk with God and has proven itself to be an essential building block for my spiritual growth.
Are you getting back to basics with spiritual practices? Which one is inviting you closer?