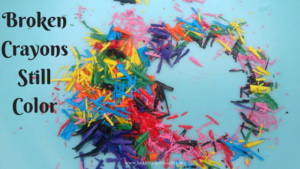 "Every one we meet loves someone, longs for something and has lost someone."
This expression reminds me that all of us are broken. Every single one of us carries hurts in our heart, sores in our souls, and wounds in our self-worth. All of us are broken crayons.
Where do we find hope in the midst of heartbreak? How do we grow from the kicks and cuts from life? 
I know praying, speaking to a spiritual director, journaling, listening to God's word – all gives me strength to face a new day. But another key practice is hearing the stories from others – how they survived.  How they learned and transformed a tragedy into a triumph. How, as Michael Hyatt wisely advices, take a bad circumstance and ask yourself,  "What does this experience make possible?"
Broken Crayons Still Color – A Book
My friend and mentor, Shelley Hitz, just released her newest book, Broken Crayons Still Color. Don't you love that title?
Shelley has poured her heart into this book and takes us on a journey of healing and inspiration. She writes:
Many times what we see as our biggest regrets, failures and mistakes become what God uses the most in our lives.
God transforms our brokenness into something more beautiful than we can even imagine. He takes our mess and creates a masterpiece.
You see, broken crayons still color.
This book is rich in all the material from Shelley: a 7-week book study, adult coloring pages for each chapter, reflection questions, scripture memory verses, prayers and links to videos. There is even a leaders guide if you want to use the book in a small group study.
"God is the artist and our lives are His canvas. What will you allow Him to create from the broken pieces in your life?
When you are in Christ, you are His masterpiece!"
A book of hope, healing and inspiration and a great gift for someone too.
Broken Crayons Still Color – A Blessing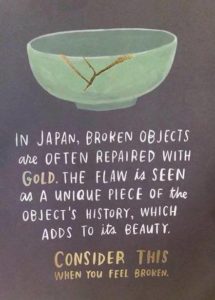 I love the story of Kintsugi, the Japanese art of repairing what is broken.
Rather than throwing a cracked bowl out, the Japanese restore the object with lacquer resin laced with gold, silver, platinum, copper and/or bronze. The final product transforms from broken to beauty.
Japanese philosophy is not to hide the damage, but embrace the break as part of the history of the object. The crack doesn't end the life or usefulness of the bowl – the fracture, though needing some repair and work, provides splendor beyond our imagination.
Our lives are the same way.
God never throw away part of us that is broken or shattered. He loves every tiny bit of our DNA, cells, and heartbreaks. He gathers our tears, our broken dreams and relationships, and the blood stained fragments of our soul and mends them with the gold of his everlasting love.
Where all we see is shattered   – God sees something significance.  
[Tweet "Where all we see is shattered – God sees something significance"]
God's love moves us from kaput to kintsugi.
From wrecked to wonder.
From fragmentation to wholeness.
God is the master artist. He heals. He mends. He restores.
God turns our broken crayons into blessings.
How have you learned to use the broken crayons in your life?