Celtic Christianity –St. Brigid
Who is St. Brigit? Exploring Celtic Christianity will be the topic for this month's Tending the Holy Thursdays – a fitting subject for March and all the Irish among us. We learned about St. Gobnait last week and you can read about it here. This week St. Brigid is visiting our space here and sharing her story with us:
St. Brigid's Story
St. Brigid is one of the three patron saints of Ireland and was born around 453 AD. Due to much of her story being written centuries after she lived, it is unknown how much of her life is based on folktale and how much on truth. Either way, her love for the poor and compassion for helping others lives on.
Her father was a chieftain named Dubthach, and her mother named Brocessa, a Christian bondswoman, not Dubthach's wife. Of course this new child by another woman doesn't set well with his spouse who persuaded him to send away both Brocessa to Limerick and Brigid into foster care.
When she is about 10 years old and more useful around the house, Brigid is brought back to her father's house, taking her mother's place in the usual round of bondswoman's duties – minding the livestock, serving at meals, etc.
Brigit's heart filled with compassion for the poor perhaps because she lived it first hand. According to legend, as a child she gave away her stepmother's entire store of butter. The butter was then replenished in answer to Brigid's prayers.  It was even said that she could coax cows to give their milk so even more butter would be available to share with those without.  
The only choice left for her father was to marry her off in an arranged marriage. Brigid refused. Later the tale would say she prayed that her beauty be taken away, so no one would want to marry her, and her prayer was granted. It was not until after she made her final vows as a nun that her beauty was restored.
Her father then takes her on a chariot to see the king and while he is inside making another arrangement for his wayward daughter, a poor beggar approaches Brigid. She shows the poor man compassion by giving him her father's precious sword.
Now that would make any father angry and he was. But the king interfered noting Brigid's compassion and love of God.
Upon entering religious life, another tale says that when the bishop heard her final vows, he accidentally used the form for ordaining priests. When the error was brought to his attention, he simply replied, "So be it, she is destined for great things."
St. Brigit's Convents
Brigid begins to gather other women around her who want to live a life of faith and soon she establishes the first convent of strict religious observance in Ireland. More convents continue to come, especially the one she is most known for at Kildare. Kildare grows into a center of pilgrimage for bishops, priests and chieftains and was famous throughout Europe. Kings vie with one another in showering rich gifts and royal favors upon the cloisters presided over by Brigid. The poor and the infirm come in their multitudes and were served.
St. Brigit's Legends
There is a great story about how Brigid obtained the land to build the convent at Kildare.Brigid asked the king for the land, saying she found the perfect spot near the forest and lake.
The king refused.
Brigid prayed.
Then she asked the king, "Will you give me as much land as my cloak will cover?"
Seeing her small cloak, the king laughed and agreed, thinking he won the battle.
Brigid spread her cloak on the ground and her friends each held a corner as they began walking in all four directions. The cloak grew and stretched and soon covered acres of property. The king then realized Brigid was a holy woman and not only gave her the land she wanted but also offered food and supplies. He eventually converted to Christianity too and lived a life of serving the poor.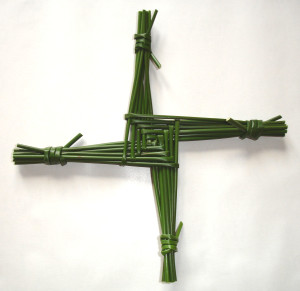 Another legend tells the story of the origin of the St. Brigid cross. It is said she created the cross from rushes she found on the ground next to a dying man. He asked her what she was doing and she told him the story about Jesus and his death and resurrection. Before he died, he asked to be baptized. Now these crosses are made on Feb. 1 and placed above the front doors for blessing and protection.
As I read about Brigid I found this recipe that is to be eaten on her festival day, February 1, but sounds good anytime. It even came with a funny poem.
Boxty Recipe
Boxty on the griddle,
Boxty in the pan,
If you can't make boxty,
You'll never get your man!
Boxty Recipe
Ingredients:
1 cup raw, grated potatoes, 1 cup leftover mashed potatoes, 1 cup all-purpose flour, 2 tsp baking powder, 2 tsp salt, 2 eggs lightly beaten, 1/4 cup (about) milk to mix, Butter or oil for frying, Sugar (optional)
Method (Serves 4):
Place the grated raw potatoes in a clean cloth and twist to remove excess moisture.

Whisk together flour, salt, and baking powder.

Combine flour mixture into raw potatoes, mashed potatoes, and eggs.

Add enough mix to make a batter.

Heat a heavy skillet over medium heat and add butter or oil.

Drop potato batter by the tablespoon into the hot pan.

Brown on both sides (about 4 minutes per side).

Butter each boxty and serve hot with or without sugar.
Table Grace Attributed to St. Brigid

I should like a great lake of finest ale
For the King of kings.
I should like a table of the choicest food
For the family of heaven.
Let the ale be made of the fruits of faith,
And the food be forgiving love.
I should welcome the poor to my feast,
For they are God's children.
I should welcome the sick to my feast,
For they are God's joy.
Let the poor sit with Jesus at the highest place,
And the sick dance with the angels.
God bless the poor,
God bless the sick,
And bless our human race.
God bless our food,
God bless our drink,
All homes, O God, embrace.
St. Brigit's Lessons
Brigid models for us compassion, leadership and care for the poor.  She reminds me to be hospitable. She is the patron saint of women and motherhood, dairy maids, cattle, midwives and newborn babies.
Quite a life story and lesson, right? Her legend stirs within my heart compassion and desire to care for the poor – a legacy that continues to live in us even after these many centuries.
I am working at our local food pantry next month and volunteering at the free medical clinic in a few weeks.  How are you caring for the poor?
I created a free "10 Celtic Blessings for your Journey" pdf for you to enjoy and share Irish blessings with others.  Just click below to receive your free copy.