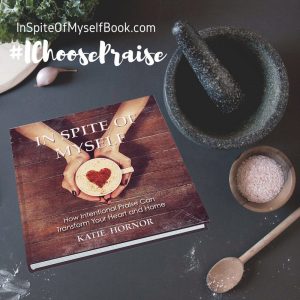 I choose praise.
Isn't that a wonderful refrain?  Finding a short simply statement like this realigns my heart and redirects my eyes on God. The words set my intention. The line serves as a landmark on the shore to prevent me from going too far adrift.
I choose praise.
An option we always have when faced with discouragement, destruction, and disillusionment. I have heard these types of sentences can be called "sticky statements" as they cling to our ears and fix to our souls.  Many of you commented about the phrase I wrote about last week – grace before guess – as one you wanted to remember and use.
I choose praise gained my attention from the new book by Katie Hornor called "In Spite of Myself –  How Intentional Praise Can Transform Your Heart and Home."
I Choose Praise – In Spite of Myself – the Book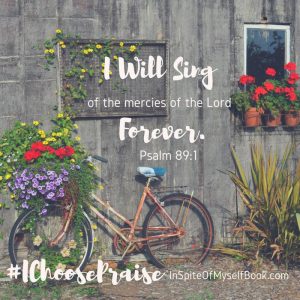 In Spite of Myself is a four-week Bible study exploring how praise heals and provides hope even in dark times. I love her personal illustrations, thought provoking questions and space to journal that is inside of its pages. She gives us encouragement to trust God "in spite of" ourselves.
I sensed this whole book is covered in prayer.
The four weeks address the topics of using praise when serving God in hard times, in circumstances you can't control, when parenting children and in times of financial famine. A great book to use on your own or in a small group.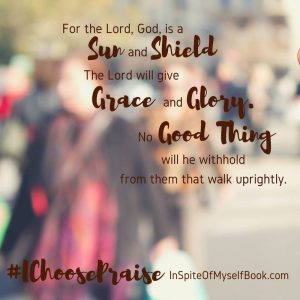 I plan to suggest it to a group of young moms that meet in our church. The book would fit them well and even provides free video lessons that complement each day, free coloring pages, and even an "I Choose Praise" music playlist.
"I pray that by the end of this study you will know him better, love him more and
trust him with an attitude, heart and lips that confidently exude his praise, in spite
of yourself, your feelings, your circumstance, or your country of residence."
I Choose Praise – My Application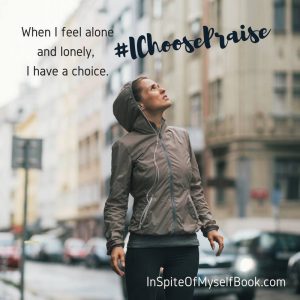 I plan to use this phrase more when at crossroads or times of discouragement or feeling overwhelmed. We do have options – we can choose to praise God in the moment and turn in trust to him.
Katie quotes her grandfather in one chapter:
"God is not surprised. God is not surprised.
God is always good. God is not surprised."
She writes, "In that moment I had a choice. I could be bitter. I could be angry. I was certainly a bit afraid; and while I did have to deal with each of those emotions, and gain victory over them in turn, I chose to trust, and to praise. It may not have looked like praise initially. In fact, I'm sure it sounded more like halting, confused praise. Soon though, God reminded both of us that he had changed the direction of our journey before and had shown himself faithful".
A powerful quote full of trust. A one step at a time walk in faith when we can't see where we are going. God is always good. God is not surprised.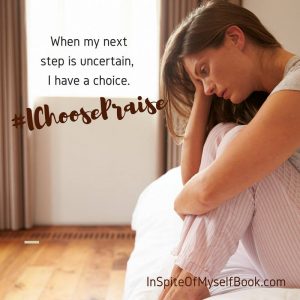 This book reminds us that in the moment, in every moment, we have the choice:  We can decide to give into bitterness, anger, or fear or we can choose praise. I can allow the world and evil or unfortunate circumstances fill my heart or I can turn to God and sing his praises no matter what. I can focus on what is wrong or be open to lessons and the blessings that often are buried underneath the dirt of life and are revealed in God's light and time.
I choose praise.
How can you choose praise today?