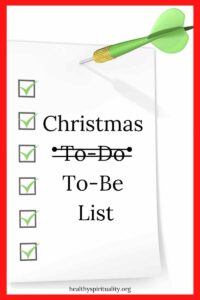 I am a list maker.  And this time of year, my lists multiply like bunnies in springtime.
Gift list.
Cards to send list.
Yummies to bake list.
Travel list.
Year-end tasks and goals to finish list.
Winter cleaning list.
Church services/messages to plan list.
Hopes and dreams to remember next year list.
I am just like Santa – making lists and checking it twice. My desk overflows with post-it notes, calendars, and extra Happy Planner pages. Paper and phone notes all representing my fruitless effort to gain a false sense of control in life.
Time to stop.
Slow down.
Trust God.
Simply to be.
My Christmas To-Be List
To be present. I want to be fully awake and mindful in moments. My default mode is future oriented and full of the noise of internal chatter. I want to connect deeper with God, with family and friends, and even myself. One soul with another is holy ground.
To be attentive. On the Myers-Briggs scale I am an INFJ. INFJs are energized by time alone (Introverted), focuses on ideas and concepts rather than facts and details (iNtuitive), makes decisions based on feelings and values (Feeling) and prefers to be planned and organized rather than spontaneous and flexible (Judging).
A key area that is missing is sensory. I rarely pause and use the gifts God gives all of us – our senses. What a wonderful way to experience this time of year, life and the world through our sights, sounds, smells, tastes and touch. To be attentive is to be aware through my senses of the environment surrounding me and the sacredness of God in all my surroundings. I will listen and observe.
To be still and savor. I deeply desire to intentionally slow down, to pause and appreciate, and to savor the holiness of this holiday. To pause and sit by the fireplace, to gaze at the lights on the tree, to breath in the voices, giggles, and hugs of grandchildren. To capture memories and moments and tuck them into my heart. To contemplate the nativity scene and how astonishing God's plan for us – to have his Son leave his throne in heaven and be born in humble manger surrounded by ordinary stuff of the world. How Jesus walked with us, taught us, and gave up his life so we can live eternally with the Creator forever. Wow!
Present. Attentive. Still.
I will add one more: to be honest.  I know myself well enough at this stage of life, to know the to-do's will still exist. But I hope this season and into the future, the list I will hold first and foremost is the to-be list.  Breath, pause, pay attention, savor first, the rest can wait.
What is on your to-be list?