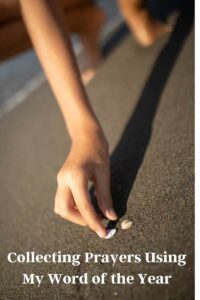 All is my word of the year and I have watching for and collecting prayers containing this word.  Such a simple word – you would think I would have an endless list by now but alas, the list grows slowly.
Slowly – that in itself is a good lesson. I tend to rush, skim, get it done. Looks like God is inviting me to savor and enjoy each prayer. To allow its word to seep into my soul. To feel its "all" to permeate my heart and shape me.
I find the prayers deepens if I copy its words, not by the printer or computer but unhurriedly with a pen into my journal. These prayers accompany me through my morning devotions and linger with me throughout the day.  Holy companions, these prayers.
Here are a few of my new friends shedding light on "all."
Covenant Prayer – John Wesley
I am no longer my own, but yours.
Put me to what you will, place me with whom you will.
Put me to doing, put me to suffering.
Let me be put to work for you or set aside for you,
Praised for you or criticized for you.
Let me be full, let me be empty.
Let me have all things, let me have nothing.
I freely and fully surrender all things to your glory and service.
And now, O wonderful and holy God,
Creator, Redeemer, and Sustainer,
you are mine, and I am yours.
So be it.
And the covenant which I have made on earth,
Let it also be made in heaven. Amen.
Empty Vessel – Martin Luther
Behold, Lord, An empty vessel that needs to be filled. My Lord, fill it. I am weak in faith; Strengthen thou me. I am cold in love; Warm me and make me fervent That my love may go out to my neighbor. I do not have a strong and firm faith; At times I doubt and am unable to trust thee altogether. O Lord, help me. Strengthen my faith and trust in thee. In thee I have sealed the treasures of all I have. I am poor; Thou art rich and didst come to be merciful to the poor. I am a sinner; Thou art upright. With me there is an abundance of sin; In thee is the fullness of righteousness. Therefore, I will remain with thee of who I can receive But to whom I may not give. Amen.
Lead Me – Thomas Merton
My Lord God, I have no idea where I am going. I do not see the road ahed of me. I cannot know for certain where it will end. Nor do I really know myself, and the fact that I think I am following Your will does not mean that I am actually doing so. But I believe that the desire to please You does in fact please you. And I hope I have that desire in all that I am doing. I hope that I will never do anything apart from that desire. And I know that, if I do this, You will lead me by the right road, though I may know nothing about it. Therefore I will trust You always though I may seem to be lost and in the shadow of death. I will not fear, for You are ever with me, and You will never leave me to face my perils alone.
Beloved – John Wesley
Now, to God the Father, who first loved us, and made us accepted in the Beloved;
to God the Son, who loved us, and washed us from our sins in his own blood;
to God the Holy Ghost, who sheddeth the love of God abroad in our hearts,
be all love and all glory in time and to all eternity.
Amen.
A PRAYER OF ST. IGNATIUS OF LOYOLA:
Take, Lord, and receive all my liberty,
my memory, my understanding,
and my entire will,
All I have and call my own.
You have given all to me.
To you, Lord, I return it.
Everything is yours; do with it what you will.
Give me only your love and your grace,
that is enough for me.
Elisabeth Elliot
Loving Lord and heavenly Father, I offer up today all that I am, all that I have, all that I do, and all that I suffer, to be Yours today and Yours forever. Give me grace, Lord, to do all that I know of Your holy will. Purify my heart, sanctify my thinking, correct my desires. Teach me, in all of today's work and trouble and joy, to respond with honest praise, simple trust, and instant obedience, that my life may be in truth a living sacrifice, by the power of Your Holy Spirit and in the name of Your Son Jesus Christ, my Master and my all. Amen
Do you have a prayer written by someone else that guides your way?