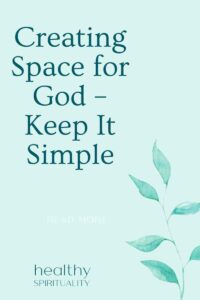 Creating space for God – a special place to connect and just be with the Lord slows me down, opens my heart, and helps me enter a time to worship, listen, and be fully present to the Presence.
Now I believe God is always with us, no matter where we are or the atmosphere surrounding a location. But my humanness experiences him easier when the environment around me calms my spirit. I call it the cathedral effect.
The last few years I have intentionally arranged sacred spaces and identified other types of environments that are my sweet spots of prayer. I reorganized the corner of my office adding a place for my Bible, journal, and a small altar to create space for God.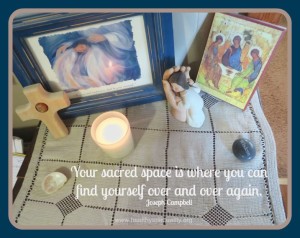 I savor my backyard deck in the warm months surrounded by the sights and sounds of nature that stirs my soul.
I crave time away in silence and stillness of retreat centers.

I savor my time at my soul spot – a white sand beach.

We just returned from a short week to Florida and time to dig my toes in the sand and feet in the waves – a place to pause, reconnect with God, and to gather my thoughts hopefully arranged in the manner God chooses. The weather was delightful – 80's, low humidity, no rain. Sun, sand, and surf nourished my soul. Perfect space for God.
A precious time to ponder, talk through, listen, and write down what I sensed God was teaching me. One quote I read last week was this: "It's only when we slow down our lives that we catch up to God." N T Wright.
But when I returned home, the chilly damp fall temps descended upon Ohio and days of gloomy rain drenched my deck. I rested in my office prayer space trying to quiet my busy mind preoccupied with all the to-do's just across the room on my desk.
I missed being outside in my backyard. And with the coming winter I knew it would be months before that space would be comfortable and enticing for prayer. My soul yearned for a new space for God.
Then I remembered our indoor porch. Not quite perfect – not as private as I like and I knew it tended to be chilly in winter. The décor offered a cooler, not cozy environment. It does have lovely large windows peering into the backyard winter beauty.
I stood on the porch, discontented with its design and furnishings, and began an elaborate scheme of new furniture, curtains, and rugs. I googled photos of inviting indoor spaces to gather ideas. I brought my reluctant hubby into the discussion of all the possibilities. We even move a few chairs around to see what might work.
Nothing worked.
I gave up.
My dream of a new sacred space evaporated in a cloud of too much stuff to move, too much work, and too much expense. We put all the moved furniture back in its original places.
Sigh.
Standing alone confused about what to do next, I moved one of the chairs out two feet and angled it to face the windows in the backyard. One simple move. A slight change in perspective.
Minimal. Uncomplicated. Surprisingly perfect.
The next morning, I sat in the chair. I found a cute basket to put nearby with my bible, a candle, and a blanket for chilly morning. I discovered if I moved a little more to the left, I could watch the bird feeder, a wintertime activity I love. The unobstructed view of the backyard brought me peace. I knew God provided a new sacred space for our time together.

What a lesson! The answer appeared right before my eyes – I was the one who made the process more difficult. I (we) overthink, over-plan, overcomplicate solutions. Fear, comparison, and ego muddles the way forward.
Thank you, Lord for being patient when we get bogged down in details and overcomplicate the answers to following you.
What has God been teaching you lately? How are you creating space for God?