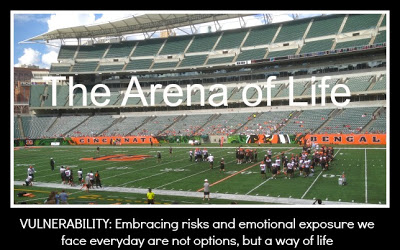 TED talks
are wonderful conversations about life, the world and curiosity. People present in less than 20 minutes a peek into their research, their experiences and/or their learning. Their mission is to spread ideas. I always learn something new when I watch a TED talk.
Brene studies and writes about such fascinating topics as shame, vulnerability and courage. She listens deeply to people and the journalist in me loves the questions she asks others to explore.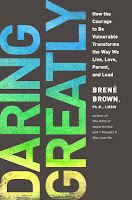 I just finished Daring Greatly. Don't you love it when a book, idea or even a blog post drops into your heart seemingly out of nowhere at just the right moment on your journey?  Thank You, Lord!
This book nourished my one word for the year: STRETCH.
The subtitle for this book is: "How the courage to be vulnerable transforms the way we live, love parent and lead."
Vulnerability is not winning or losing; it is engaging and taking part in life. It is embracing the risk and the emotional exposure we face every day not as options but as a way of living. If we step into our vulnerability, allow risk taking to stretch us, we find courage.  "When we spend our lives waiting until we're perfect or bulletproof before we walk into the arena, we ultimately sacrifice relationships and opportunities that may not be recoverable, we squander our precious time and we turn our backs on our gifts, those unique contributions that only we can make."
Brene writes:
"Wholehearted living is about engaging in our lives from a place of worthiness. It mean cultivating the courage, compassion and connection to wake up in the morning and think, 'No matter what gets done and how much is left undone, I am enough." It's going to bed at night thinking, 'Yes I am imperfect and vulnerable and sometimes afraid, but that doesn't change the truth that I am also brave and worthy of love and belonging.'"
Oh, there is a lot to this book that I will revisit as I grow and learn and am stretched.
Just last week I wanted to talk with someone about an idea I had. At first I was excited but then the self-doubts crept in – What if he laughed? What if they thought it was a dumb idea? I am not really worthy of this and why should they want me?
Fear stopped me. Then I thought about how this situation made me vulnerable. Here I was risking embarrassment to suggest an idea.  Once I described or reframed the circumstance as the emotion of feeling vulnerable, the fear left.
Vulnerability helped me find courage.
I did go to him and suggest the idea. He liked it and I may have a new exciting opportunity ahead of me.
God created vulnerability to help us. It is strength, not a weakness.
God is using vulnerability to live out my word of the year: STRETCH.
God is asking me and all of us to dare greatly.
The phrase Daring Greatly comes from a speech by Theodore Roosevelt given in 1910:
"It is not the critic who counts; not the man who points out how the strong man stumbles, or where the doer of deeds could have done them better.
The credit belongs to the man who is actually in the arena, whose face is marred by dust and sweat and blood; who strives valiantly; who errs, who comes short again and again,
because there is no effort without error and shortcoming; but who does actually strive to do the deeds; who knows great enthusiasms, the great devotions; who spends himself in a worthy cause; who at the best knows in the end the triumph of high achievement,
and who at the worst, if he fails, at least fails while daring greatly, so that his place shall never be with those cold and timid souls who neither know victory nor defeat."
How has being vulnerable helped you to find courage in life?