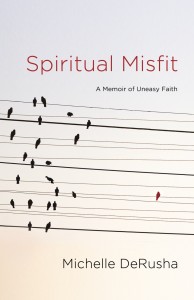 As I wrote on Tuesday, I really like Michelle DeRusha's new book, Spiritual Misfit. She openly shares her struggle with her faith in a real and honest way. Her words remind me of an incident I experienced in a Sunday School Class a few years ago.
We were studying different people of the Bible. I mentioned the old song "Joshua Fit the Battle of Jericho" and how the whole story of Joshua being obedient to walk about the walls of Jericho seven times always spoke to me. The message in this story reminds me that my job is to obey God, so God could do his job of removing walls. God wins the battle; my assignment is to be faithful. One of the other participants responded quietly that she didn't know that song and had no idea what story I was talking about.
You see, she didn't grow up in the church and didn't know the lessons from the Bible like I did. I didn't mean to intimidate her and she didn't take it that way. She was just being honest and reacting to my comment from a very real place. And like Michelle, she was searching and hungry for a closer relationship with God.
God meets us wherever we are and accepts and loves us as we are – whether we don't know one iota about the bible, when we are filled over capacity with doubts, and whether we are raised in the church or not – we are all welcomed to come into his arms whenever and wherever we are.
As I read Spiritual Misfit, I turn down corners and underlined multiple quotes and passages to reread, ponder and journal about. I want to share just two of those with you today
The first quote from Spiritual Misfit describes a scene from Michelle's life that mirrors my experience in that Sunday School classroom
"Brad and I sat through an overview of Luther and his 95 Theses and a few details about the sacraments in Lutheranism (only two, a piece of cake!). The class went smoothly, but then, just as I was gathering my purse and coat, the pastor asked us to join him in song to close out the class. "Let's sing 'Jesus love me,'" he suggested.
Right on cue, twenty brand new members joined him, singing lyrics as familiar and comforting as "Twinkle Twinkle Little Star."
I stood there rigid and dumbfounded, silently moving my lips while everyone around me belted out the lyrics memorized from their earlier days in Sunday School… I didn't know the words. I didn't even recognize the tune. …I was certain everyone knew the truth; that I was a fake, a fraud, a lying Lutheran, a pseudo-believer among real Christians."
Don't you just love her honesty? I am sure many of us have had experiences like that.
A second quote to share:
"Sitting in the dark, cold basement, I stepped back from my fussings and frettings and turned the whole ugly mess over to God. Limp with relief, I realized I didn't need to face my faults and fears, my inadequacies and my powerlessness on my own. I have God.
A God who loves me in spite of my blurting and blundering, in spite of my overreactions and foot-in-the- mouth moments.
A God who forgives even my worst parenting decisions, who eases even my worst fears.
 I have a God who guides me over the most formidable peaks and into the most tranquil valleys.
I knew, even in the midst of that unburdening, that surrender and trust wouldn't ever be easy for me. My very nature battles it. I understood that I would have to repeat this process of surrender and trust again and again, possible throughout my entire lifetime.
 I also understood that I had a choice. The choice to trust was all mine."
I know I have been in that exact place as Michelle describes here. And it feels so good to know I am not alone in this struggle.
There are times we all feel like a Spiritual Misfit. Michelle's book gives us the words to describe those moments and helps us to be mindful, loving and accepting when others tenderly share their struggles with us.
Want to win a copy of this book?  The giveaway will continue until Friday, April 18 at 5 pm so be sure to comment on either the Tuesday's post or today's to be eligible to win a copy of Spiritual Misfit. I will announce and notify the winner on Saturday.