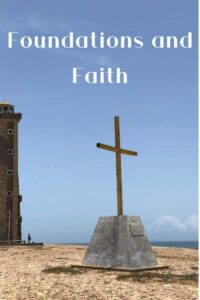 I have been catching up on my reading piles these past weeks. Library books. Books sent to me to review. A few sitting so long on my stand their dust covers are actually covered in dust.
The seven I worked on this week were disappointing, so I am not even going to name them here. It is hard work to write a book; authors pour their soul into the words. Who am I to criticize them? I do love books, so it was odd to dive into so many in such a short time that left me bored and wondering where else to spend my time more productively. I never connected with them as a reader.
Always an optimist, I gathered them together and asked myself what did these books collectively teach me?
They all reminded me the value and importance of living a life on a solid foundation, nourished by faith. Many of the books listed rules the authors adopted for their lives.
One author wrote two long books, each dedicated to only 12 rules. Another writer dug into her family history, her roots, researching very detailed history of her ancestors, how they lived and what happened in their world. Another one shared more than 200 nuggets of wisdom.
Would it be beneficial for each of us to write out our own foundations to live a faithful life? I've read where people summarize their essential beliefs in a poem, prayer, song, or essay. "20 things I have learned in my journey through life" type of creation.
Several years ago, I wrote out a Rule of Life and reread it often. I do try to live by those words.
A Rule for Life is a collection of guidelines for living. It can also be called a Way of Life. Its purpose is to help us keep our sense of balance by intentionally addressing all aspects of life: physical, emotional, socially, spiritually, etc.
Debra K. Farrington in her book, Living Faith Day by Day, encourages us to pick a practice under each of the following areas to plant our roots deeply in our faith.
1. Foundations (putting God at the center of your rule and your life)
2. Prayer (finding a prayer type and rhythm that works for you)
3. Work (approaching your work as part of your spiritual life rather than something divorced from it)
4. Study (establishing a regular practice of learning more about God)
5. Spiritual companionship (committing yourself to regular companionship and community on the journey)
6. Care of your body (taking care of yourself as a spiritual practice)
7. Reaching out (caring for others and the environment as a spiritual practice)
8. Hospitality (finding ways to be a gracious presence in the world)
I wonder if I could boil it down to only 12 or so rules like the one author did. God did give us 10 commandments and Jesus summarized those into one great commandment: to love God with all our heart, mind, and soul and to love our neighbors as ourselves. Simpler the easier to remember but harder to do and to put into practice.
There is a power to putting our faith into words – articulating what we do believe and how we want to live. Often the experience of naming our foundation verbally or in written form, guides us in uncertain times we all face.
Faith lifts us beyond hope. When all else crumbles, if we know where to stand, who we are and whose we are, we then can focus forward. We keep our eyes, not on our problem, but on the Problem-solver.
May your rule for life draw you closer to the Ruler of all Life.
May we always stand on the solid holy ground of God's foundation.
Have you written a Rule for Life or put your beliefs in writing?