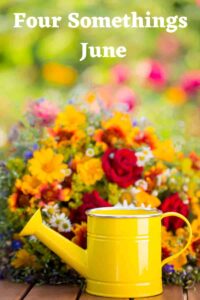 Four Somethings is the spiritual practice of remembering, reviewing, and savoring life's lessons and sacred moments in our lives. So occasionally I share bits of wisdom in four categories.
Something Wise
Something Wonderful
Something Whispered
Something Whimsical
Gathering Four Somethings makes me aware of all the blessings often hidden under busyness, worries, and distractions. These "somethings" become markers in our spiritual journey. With so much pivoting and uncertainty in our lives right now, being grounded in a simple practice like this guides my way.
Here are some recent "somethings."
Something Wise
I really enjoy reading and relishing Mary Oliver's poetry. Here is one of my latest discoveries. I hope I can live this way:
Truly, we live with mysteries too marvelous to be understood.
How grass can be nourishing in the mouths of the lambs.
How rivers and stones are forever in allegiance with gravity,
while we ourselves dream of rising.
How two hands touch and the bonds will never be broken.
How people come, from delight or the scars of damage,
to the comfort of a poem.
Let me keep my distance, always,
from those who think they have the answers.
Let me keep company always with those who say
"Look!" and laugh in astonishment,
and bow their heads.
Something Wonderful
My backyard is slowly awakening, providing hope in colors and new life.  I love my garden, sitting there, cherishing the beauty of God's creation. I don't think I have shared my swings before on this blog.
When we remodeled our backyard a few years back I showed the contractor a Pinterest photo of a swing shed I wanted.  When we returned from work one day, he created this one – much wider and larger than I expected. Big enough for two double swings.  Once I got over my shock at its size, I fell in love with its shape and have spent countless hours swinging and swaying with the Lord.
As a side note to this something wonderful, the swings are made from recycled milk jugs by the Amish in Shipshewana, Indiana.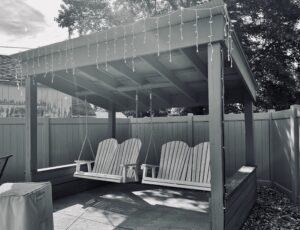 Something Whispered
Enough.
What is enough? My heart is pondering this word lately. Much of it arises from the often-repeated Ignatian prayer that I daily visit:
Take, Lord, and receive all my liberty,
my memory, my understanding,
and my entire will,
All I have and call my own.
You have given all to me.
To you, Lord, I return it.
Everything is yours; do with it what you will.
Give me only your love and your grace,
that is enough for me.
My heart's desire is God's love and grace is enough for me but have a long way to do to live into and from that center.
Something Whimsical
Take the time to watch this video ( and if you are reading this through email, you may need to go to the blog to see it) I have never seen such imaginative clocks. Amazing.
Paying attention is an essential practice for our spiritual journeys. My periodic sharing of my Four Somethings help me to collect and savor these moments of noticing.
What are YOU discovering lately?