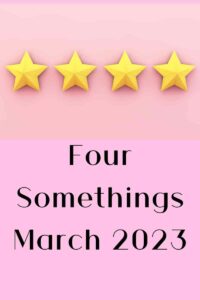 Four Somethings is the spiritual practice of remembering, reviewing, and savoring life's lessons and sacred moments in our lives. So occasionally I share bits of wisdom in four categories.
Something Wise
Something Wonderful
Something Whispered
Something Whimsical
Gathering Four Somethings makes me aware of all the blessings often hidden under busyness, worries, and distractions. These "somethings" become markers in our spiritual journey. With so much pivoting and uncertainty in our lives right now, being grounded in a simple practice like this guides my way.
Something Wise
"Holiness comes wrapped in the ordinary.
There are burning bushes all around you.
Every tree is full of angels.
Hidden beauty is waiting in every crumb.
Life wants to lead you from crumbs to angels,
But this can happen only if you are willing to unwrap the ordinary
By staying with it long enough to harvest its treasure."
Macrina Wiederkehr
Something Wonderful
I was studying the spiritual discipline of seeing beauty and learned a new to me practice of Wabi Sabi. Wabi Sabi is the Japanese method of finding beauty of imperfect things, especially as something or someone ages.  I ventured down all sorts of rabbit trails reading about this practice but here is a wonderful quote that lingers as an image of accepting beauty in surprising places:
"Outside the Cathedral holding ancient relics in Valencia, a woman kissed pigeons. She saw these birds as symbols of God. Gray and white and black as discarded shells, these were creatures I'd been taught to think of as 'filthy.' They seemed filthy, in fact, with their staring orange eyes and patchy feathers. But now, while I looked, they turned into doves. Of course they always were doves, or rather, of course doves always really were a type of pigeon. But I never really believed it until this woman showed me her belief. Her kiss transformed ugliness to beauty.
"So it was like a fairy tale after all. It was the old story: what is loved reveals its loveliness. Here she squatted, radiant, smiling, enrobed in life, in a dozen pairs of folded wings, in a dozen pairs of pearl gray and, as I looked, yes, even lavender, even royal purple wings — a woman in an ordinary black cotton dress who smiled as if she knew she was the luckiest person on earth, swathed in blessing." Bonnie Friedman
Something Whispered
"Hear God's refrain: You are my beloved. It's like the music of our lives, a refrain sung over and over, telling us who we are. Hear the constant refrain from your birth and from the beginning: You are my beloved. Feel yourself wrapped in love again and again. Then kneel in your heart and perhaps on your knees to confess sin, to turn and repent." Br. Luke Ditewig
Don't you love this beautiful image of God singing this refrain over and over again into our hearts? Reminds me of the verse, "The Lord your God is with you, the Mighty Warrior who saves. He will take great delight in you; in his love he will no longer rebuke you, but will rejoice over you with singing." Zephaniah 3: 17
Something Whimsical
This video cracked me up. The Useless Box reminds me of those crazy busy days of meetings, details, and spinning our wheels wondering where the meaning of life really is. Can't you just imagine 1000 years from now someone discovering this contraption and wondering about its purpose. Enjoy!
How is God shaping you so far in 2023?