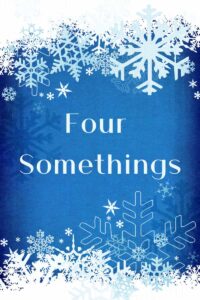 Four Somethings is a regular blog post where I feature bits of wisdom in four categories.
Gathering Four Somethings makes me aware of all the blessings often hidden under busyness, worries, and distractions. These "somethings" become markers in our spiritual journey. With so much pivoting and uncertainty in our lives right now, being grounded in a simple practice like this guides my way. 
As I began this practice last year, I listened to my heart and to God and narrowed down my four categories and use them to frame these life lessons:
Something Wise
Something Wonderful
Something Whispered
Something Whimsical
Each one reminds me to pay attention to these qualities in my life as gifts from God.
Something Wise
Kate Bowler shared this New Year Blessing on her web page.  So fitting for all of us and a wonderful prayer to accompany my words of the year: Honor the thirst deep within. 
A blessing for when you want to change

God, I carry around this incompleteness,
this drive for fulfillment that always seems just around the corner.
If only I could get it together and find my true calling,
my real passion, or the right plan.

God, help me, guide me. What am I missing?

Blessed are we who strive earnestly
to change ourselves and the world around us,
but feel the drag and pull of what won't budge,
the weight of all our limited and frail humanity.
We carry it with us.

Blessed are we, the hungry,
in lives that are both too much and not enough,
willing to tell the truth to ourselves and to each other,
that we languish here…
in "what is perhaps the central paradox of our condition—
that what we hunger for more than anything else, is to be known in our full humanness, and yet that is often just what we also fear more than anything else." (Frederick Buechner)

To be fully known, and fully loved, in all our humanity.
And that is a God-sized project.

Blessed are we, thankful that we can live
our human-sized lives in the glad company of the vulnerable and the broken,
the imperfect made whole in the love of God, through Jesus Christ.

Maybe it's right to be hungry. And stay that way.
I can easily substitute my word, thirst, for her word, hungry "Maybe it's right to be thirsty. And stay that way." Wow, something to ponder, right?
Something Wonderful
A new grandson! Wyatt Witt Wise was born Jan 10, 6 # 11 oz. He is my 6th grandchild – four boys and two girls. I feel so blessed!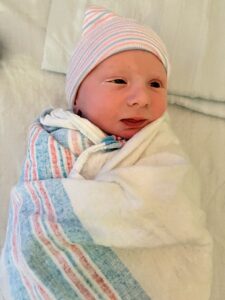 "If I had known grandchildren were this much fun, I would have had them first." – Unknown
Something Whispered
"Deep trust" is the phrase I am hearing from the Lord. The words feel like an invitation to come closer. Letting go of false beliefs and lying narratives. To step out in faith, grasping God's hand into an uncertain future.
I am not sure where this journey will lead, but I know Who travels with me.
Something Whimsical
I paused this morning and scanned my coffee mugs. Do you have special cups or dishes that represent something about you? Fun isn't it; and very self-revealing.

We recently decluttered our mug cupboard and of course it was hard to thin out some old favorites. How insightful to ponder the "chosen" ones who were kept and how they describe various aspects of my life – creativity, writing, family, travel.  Here are a few examples:
Where is God leading you in 2023?