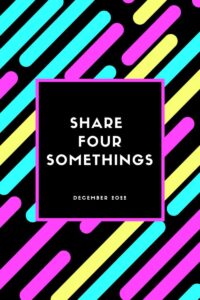 Share Four Somethings is a regular blog post where I feature bits of wisdom in four categories. 
I love this practice as it collects moments for reflection and growth. These "somethings" become markers in our spiritual journey. With so much pivoting and uncertainty in our lives right now, being grounded in a simple practice like this guides my way.
Sometimes simple is best, right?
I listened to my heart and to God and narrowed down my four categories and to see what they will teach me this year.
Something Wise
Something Wonderful
Something Whispered
Something Whimsical
Each one reminds me to pay attention to these qualities in my life as gifts from God. While earlier in the year I struggled with the whimsical category, this month that one was the easiest. God certainly surprises us!  All the time!
Something Wise
A Franciscan Benediction
May God bless us with discomfort
At easy answers, half-truths, and superficial relationships
So that we may live from deep within our hearts.
May God bless us with anger
At injustice, oppression, and exploitation of God's creations
So that we may work for justice, freedom, and peace.
May God bless us with tears
To shed for those who suffer pain, rejection, hunger, and war,
So that we may reach out our hands to comfort them and
To turn their pain into joy.
And may God bless us with just enough foolishness
To believe that we can make a difference in the world,
So that we can do what others claim cannot be done:
To bring justice and kindness to all our children and all our neighbors who are poor.
Amen.
Hard prayer to say, isn't it?
Something Wonderful
Did you know I love Disney?  I know sometimes they are controversial and often seen more a making a profit than creating magic, but I do love the wonder of story-making and -retelling, the history and memories from childhood, the creativity of the imagination and beauty in believing in more that the eye can see.
In November my hubby and I ventured to Southern California to Disneyland and some behind the scenes adventures of Jim Henson and Walt Disney. Magical. Wonderful. Delightful soul refreshing but wow did my feet hurt trip.
I will share a few photos of this something wonderful: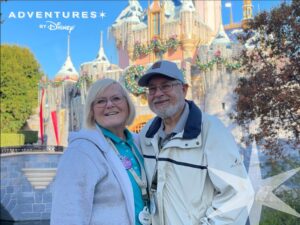 Something Whispered
God is slowly revealing a word of the year for 2023 for me.  I have been paying attention to words that resonate, shimmer, jump out at me. I keep a list of potential candidates here on my office desk. There are two that keep whispering "Pick me. Pick me."  I keep listening but am uncertain which one.  Maybe I will take both into my heart to guide me next year. What do you think?  I will let you know in January.
Something Whimsical
The county seat where I live in rural NW Ohio is the headquarters for Spangler Candy, one of the world leaders in making candy canes and the home of the Dum-Dum Suckers.  They recently painted Bryan's water tower covered with the different flavors of this treat – isn't it cool?



What would be your Four Somethings? How has God surprised you lately?