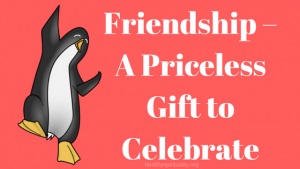 We visited my son, daughter-in-law, and absolutely perfect 10-month-old grandson this past weekend. On Saturday, they were invited to bring us along to one of my son's college friend's parents' home for a BBQ.
I didn't know anyone as I arrived, but left with a family of friends in my heart.
I watched my son surrounded by at least four lifelong friends. They were now all married and the wives shared stories and made even more memory connections. Several of them were young parents, so they bonded even more over this new role in life.
Sharing life passages deepens friendship.
Good relationships keep us happier and healthier. I love TED Talks and this one shares a study proving this statement. Friendships are good for us. If you are reading this by email, you may need to go to the blog to watch this fascinating video.
Friendship is priceless.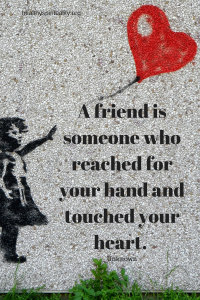 Lifelong Friendship
"A friend knows the song in my heart and sings it to me when my memory fails."
–Donna Roberts
I have written before about how my life is richer due to friends. I shared about embracing the present moment with friends   and Making Friendship a priority.
Two powerful friendship memories for me occurred on trips.
The first significant moment happened on our trip to the Holy Lands. Ten of us friends traveled with a tour group to Jordan and Israel. I remember when we visited the Chapel of the Shepherds Field in Bethlehem and stood in a circle and sang Silent Night. The chorus reverberated with the small chapel. With tears in my eyes, I quit singing and just breathed in the fact that not only did we share love between us, but also our love for the Lord. Doesn't get better than that!
The second wow moment occurred when we shared a huge home on the beach at the Outer Banks, N.C. I watched friends from my childhood, from college and from adulthood all connect, converse, and cultivate their own bonds. The only link they started with was knowing me, but a strong network of love, laughter and compassion emerged among them. It was wonderful to watch how friends from one point in time became friends with people I love from another point in time.
I love these people, but every once in a while, my breath is taken away by the realization how holy, how honored, how cherished deep friendships are.
"I think if I've learned anything about friendship, it's to hang in, stay connected, fight for them, and let them fight for you. Don't walk away, don't be distracted, don't be too busy or tired, don't take them for granted. Friends are part of the glue that holds life and faith together. Powerful stuff."
– Jon Katz
Why we need Friendship
We cannot tell the precise moment when friendship formed. As in filling a vessel drop by drop, there is at last a drop which makes it run over; so in a series of kindness there is at last one which makes the heart run over.
Dr. Samuel Johnson
Ever wonder why we need friendship? Psychology Today listed 15 reasons in this article.
The two reasons from this article that resonated most with me were:
 Friendfluence affects you in more ways than you realize. Carlin Flora created the word "friendfluence" to capture the effect that friends have on our lives: "Friendfluence is the powerful and often unappreciated role that friends—past and present—play in determining our sense of self and the direction of our lives."  I know the connection I made with my lifelong friends continue to shape me today even when we are not together.
 Your online friends can steer your thoughts and behaviors. I am amazed how friendships are discovered and deepened across the Internet. I love meeting my blogger friends in person. I cry when they face loss, I pray for them, and I share my thoughts and beliefs with them.
Friendship Changes
Over the past ten years, many of my friends have walked with each other with deteriorating health of parents. Our relationships strengthen by mutual support and understanding through difficult times.
"Let us be grateful to people who make us happy, they are the charming gardeners who make our souls blossom."
–Marcel Proust
This article is interesting about how friendship changes in adulthood.
"I've listened to someone as young as 14 and someone as old as 100 talk about their close friends, and [there are] three expectations of a close friend that I hear people describing and valuing across the entire life course," says William Rawlins, the Stocker Professor of Interpersonal Communication at Ohio University. "Somebody to talk to, someone to depend on, and someone to enjoy. These expectations remain the same, but the circumstances under which they're accomplished change."
Friendships do change. Friendships come and go. But when they grow and thrive over decades with deep times together – the relationship is valuable, joy filled and irreplaceable.
I am grateful for friendship.
What about friendship do you value?