Germany Pilgrimage and Upcoming Changes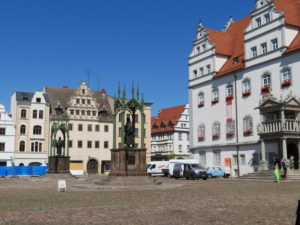 I am home from the Germany pilgrimage with a full heart of memories, new lessons, a renewed appreciation of history and millstone of jet lag.  I even brought home some German germs in the form of a slight head cold.  Cough, sniff…
 I wrote here a couple of weeks ago about the difference between a vacation and a pilgrimage.  The devotions we experienced as a group based on what we were seeing each day grounded our journey and deepened our insights.  The one following our visit to Dacha Concentration Camp was especially poignant. We definitely left Germany differently from when we arrived with our minds full of new insights and knowledge, our eyes open to new perspectives, and our hearts widened with more compassion.
As I journaled my thoughts, emotions, and encounters on this trip, I kept noting – "Oh, this should be a blog post!" so I am making a few changes to Healthy Spirituality for this month.  In this post and then the next five, I will share something I learned and reflected upon while traveling. Most of my words will be based on a location, a point in history, or a quote associated with that country. I hope you enjoy a peek into my pilgrimage and that these words bless you on your own journey.
The Value of Routines and Rituals
The main purpose of my pilgrimage to Germany was to see and learn more about the Land of Martin Luther. Next year will mark the 500th year since he nailed 95 theses on the doors of the Castle Church in Wittenberg.
But before all this, Martin was an Augustinian monk in a monastery in Erfurt, Germany. There he studied theology intensely and was nurtured by the century old rhythms of devotion to God – regular prayer, service, living in community, and Bible study.
The Augustinian order was considered very strict in Luther's day. All the monks rose at 3 am for prayer, followed soon afterward by a longer prayer service and Bible readings. They followed the "Divine Hours" so stopped all learning and serving at regular times of the day, whenever the bell called them to prayer: 3 a.m. then at 6, 9, noon, 3, 6 and then compline at 9 pm.
We visited this monastery on our trip and sat in the "Chapter Room" to hear how the monks lived and learned. Once a week in that very room, Martin Luther would make his confession to his mentor and his pastor Johann von Staupitz.  Luther struggled with his unworthiness and his need to confess everything completely. It is said one time he confessed for six hours straight.
Staupitz tried to help Luther by emphasizing God's grace.  Surrender to God's love, he would console Luther. All you need to do is to love God.
He chose Luther to replace him as professor of Bible at Wittenberg in 1512.  This opportunity, this trying a new job, stretching himself out of his comfort zone into the studying and teaching the word of God planted the seeds of reformation. Luther wrote that it was Staupitz that introduced him to the Gospel. Saved by grace, not indulgences.
As I sat there listening to this story, I realized that in these years – before fame, before crisis of faith, before stepping out on his faith into the unknown and frightening call God presented for him, before he wrote, before he married, before he faced excommunication and controversy and death threats, before the pheasant's war, before…before… before… God was forming him.  Planting seeds that would later emerge. 
This monastery, this very "Chapter Room" was Martin Luther's cocoon as God transformed him into a new living creature.  Metamorphosis.
I get impatient in the waiting time.  I grow restless in the fallow, before times. My daily rituals and devotional rhythms sometime echo unanswered in my own "chapter room." I only see the dark unknown of my cocoon.
Yet God is at work. Planting seeds for a later time. Deepening roots that will provide strength when needed. Storing nourishment in the warehouse of my mind and heart.  Forming me. Shaping me. Healing me. Pruning me. Before…before…before…
The rituals and routine formed Luther in a way he never could have predicted. Like water slowly drips and runs and over time the Grand Canyon emerges, God works within each of us – through his presence in our routine of prayer times, his power in his Word and his strength in his spirit – and we too are transformed just as He imagined when he breathed life into us. God is right now planting seeds within us and soon, fellow butterflies, we will fly.

Upcoming Temporary Changes
The last week in July (July 25-29) I am going to try something new for this spot – a weeklong Spiritual Summer School.  The theme for this year – yes I hope to make this an annual event – is "Slowing Down to be with God" and for five days we will explore ways to connect with God in our busy, full schedules.
I will post five times that week (don't worry, yes I will return to just twice a week after that) and daily complement the topic on Facebook Live – yikes, I plan to try live stream! –  on my Facebook author page (please go there and "like" my page, so you can see me make a fool broadcast live or watch the replays later).  My tentative schedule will be Monday through Friday that week at 1:30 eastern.  Watch for more info later this month.
This Month's Free Offer
I compiled into a free download some of the German Prayers, Blessings and Quotes we used on the trip or that I found elsewhere. Please just click on the button below to get this resource and I hope you enjoy its words.
Click Here to get the resource guide! Thanks!
Think about times you've waited, learned, felt like you were stuck in a cocoon, unable to see where God was leading. What did you learn?  How has that formed your faith now?