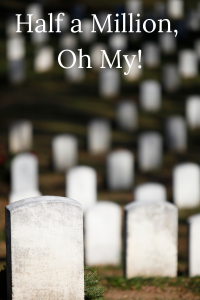 Half a million dead.
This is the number fellow Americans who have died in the Covid pandemic.
In one year – 500,000 lives gone.
This grim statistic stabbed my heart. I can't even comprehend this staggering number of a half of million.
I read this is more that the entire population of the city of Atlanta.

There are 525,600 minutes in a year. That's one Covid death per minute, for almost an entire year.
National Geographic shared these and other graphics about this tragedy.
In 2020, the U.S. saw a more than 15 percent increase in deaths over the prior year, the highest year-on-year rise in deaths across the U.S. since 1918, which experienced both a global flu epidemic and the First World War.
A line of 500,000 caskets, laid end to end, would stretch for 645 miles. Those coffins would reach from New York City to Indianapolis.
It would take a wall almost nine times the length of the Vietnam Veterans Memorial in Washington, D.C., to list the names of every American who died from COVID-19. The 58,318 names of those who perished in the Vietnam War are etched in the monument's black granite.
If each death were marked with the blink of an eye, it would take 14 hours of rapid blinking to count off all the victims.
Oh my!
I am sad at the loss and all the potential joy and contributions missing now from life itself.
I grieve for friends and family I know impacted by this virus and for so many I don't know, now devastated not just by the inconceivable half a million number, but by heartache of losing love ones.
I am angry at this cruel disease and also for the leaders who originally denied or played down the seriousness of pandemics. I worked in public health for 26 years. We warned for years this was coming – they chose not to listen with cold hearts and their own agendas.
If you held a minute's silence consecutively for every person who has died from Covid in the US, it would take 347 days, almost a full year, to honor them all.
Let's honor these half a million souls right now. Stop reading and close your eyes for a minute and honor these lost lives and hold their families in prayer.  I'll wait…
The Rev. Terri C. Pilarski is an Episcopal priest serving a church in Dearborn, MI shared the following prayer on a blog I read with words better than I can say.
"Holy One. I realized last night that if I were to pray the names of the 500,000+ people in the USA who have now died from COVID-19 it would take me a year of praying 24 hours a day to pray all the names. That's 1,500 people a day, or about one person a minute 24/7 for a year.
Dear God. So I offer my prayers without ceasing this day and entrust them to you for every soul that has died, over a million worldwide. And for all the families and people who lost loved ones to this virus.
I believe that this will become a transformational event in the history of humankind. Because I also trust that you, O Divine One, always reach into chaos and pull forth order and new life. As you have in the past, you will do so again. I believe that there are human beings longing and willing to work with you to bring forth the transformation that will come from this tragedy. All will not be well for a long time to come. But the journey to wholeness and health, which surely is your desire for all creation, is a journey of for the ages.
You, O God, see in ways we cannot, over a vast expanse of time that alludes humankind, who only see in minutes or days, maybe years. I pray this day for those souls lost. I pray to do my part to work with you, to do my part to create a more whole and healthier world, in all the ways that it means to be whole and healthy."
Amen.