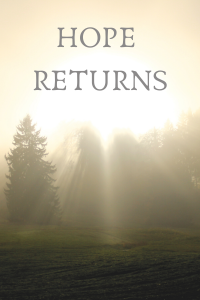 Hope returns. Where are you finding hope in these uncertain times?
My heart yearns for good news. My eyes search for positive signs. I beg God to show me he is still here in the midst of death and doubt.
I truly believe God is present and never leaves us. We are the ones who ignore him. Who rush by him. Who put on our blinders, narrowly focusing on what is going wrong and missing his mercy and grace. We are on holy ground all around. We just fail to see.
Hope Returns
A few weeks ago, I wallowed in my self-pity and whining. Covid 19 mired my perspective and attitude and infected my heart. I pleaded to God to help me see his promises and to revive my soul.
That is when hope returned.
I write this blog each week from my office with a great window facing my backyard. When I sit in my glider chair in this same room for my morning prayers and devotions my view is the sky and trees. This is my sacred space I have shared in previous posts. I watch the seasons burst into life in spring and the weather rolling in and out. Having a sacred space where I can rest in God calms my anxiety and opens my heart.
If I lean forward just a bit, I can see out the side door in the hallway to the bird feeder swaying with comings and goings of brown speckled sparrows.
That is when hope returned.
Behind the bird feeder by the kitchen window is a small, 6 by 7-inch mounted speaker. That morning I noticed a few long pieces of tan grasses draped over the back bracket.
Could it be? Has this happened two years in a row? Was my robin back once again building a nest in this precarious location?
I shared her story last year here on Healthy Spirituality. I called her Lucy and she taught me persistence last year as she struggled daily to build a nest for her future.  Most of the time I worried about her as she failed to make progress. Here is her story for you to read again.
I don't know if the robin attempting once again to build a nest on that small platform is the same Lucy, but I like to believe she is the same or maybe her daughter, so call her Lucy II. 
For weeks, the news wasn't good for Lucy II as the nest continued to fall apart and scattered across our deck.  I fretted about her and wondered if this year would end tragically, not wonderfully.
Every day she shows up.
Every day she starts over.
Every day she tries once again.
Every day she takes the ordinary debris from a left-over garden, adds muck and mud of the earth and builds something to hold new life.
On Sunday Lucy II completed the nest.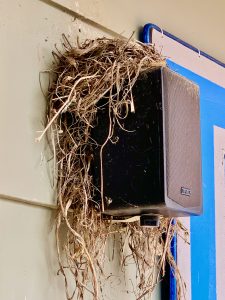 A place for new life to emerge and fly into the world with expectation and promise.
My hope returns watching Lucy II.
I smiled sensing God standing alongside me observing her daily attempts.
I feel God gently whispering into my heart – you can do this too. So:
Every day I show up.
Every day I start over.
Every day I try once again.
Every day I take the ordinary stuff from the garden of my life, add the muck and mud of the world and build something to hold new life.
A place where new life will emerge and fly free sometime in the future.
Thank you, Lucy II, for once again teaching me and showing me God's lesson for this time.
Hope returns.
Where are you finding hope lately?