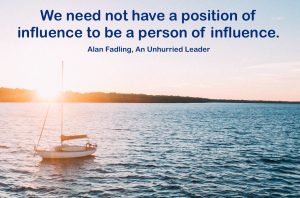 When I led the county health department, I learned a key lesson. Avoid making "stairway decisions."
A stairway decision occurs when a person asks you something on the stairs, in the hallway or say, by the coffee pot. I always believed in being approachable and open to conversations and suggestions, but learned the hard way, not to make quick decisions on the fly. Too often those choices weren't fully considered and with not all the correct information presented. I had to learn to be an unhurried leader.
Hasty choices cause horrible consequences. Jean Wise
[bctt tweet="Hasty choices cause horrible consequences. Jean Wise" username="Jeanwise"]
An Unhurried Leader – The Lasting Fruit of Daily Influence – is a new book by Alan Fadling. I am part of his book launch team and am in no way required to give a good review, but am happy to present this fascinating unique approach to leadership to you today.
Fadling writes, "Hurried leaders are quick to do and slow to be; quick to speak but slow to listen, quick to teach and slow to learn, quick to lead others but slow to let God lead them beside his still waters."  Ouch, I've been there – way too often.
An Unhurried Leader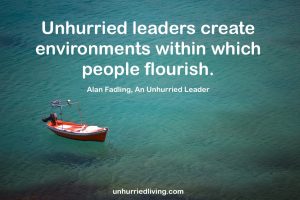 An unhurried leader is not just about organization leadership, but about life leadership. Spiritual influence. Serving others from the overflow in our hearts abounding with the spirit, not the give, give, give until we are burned out mode of many leaders today.
An unhurried leader "operates from a peaceful confidence that God has made me, that God is remaking me and that God has invited me to life a life of influence from that very place and as that very person. God is making me to be the person of influence I was meant to be."
An unhurried leader knows we all are a work in progress. We ARE children of God whose hearts' deepest desire is to serve and love God.
"Spiritual leadership can help us remember what while what leaders do matters immensely; who leaders are matter even more…Two people can do the very same thing with very different outcomes. The same task gets done, but the resulting fruit can be radically different."
Can you sense the wonderful depth in this book that overflows with wisdom to chew on about our own influence? Each chapter also ends with unique practices and reflection questions to further our exploration of the topic.
I think this would be a great book for a leadership team to read together and discuss.
An Unhurried Leader Lessons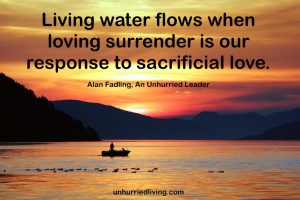 This is one book I plan to take from my shelf and reread due to its volume of wisdom. Here are just a few of the things that stayed with me:
Reset – Alan Fadling practices what he writes. He is an unhurried leader. As a writer, he took the time to retreat out of the noise of the world and the distractions of daily life, to go away with God, to hear God's voice, then to write. He hit the reset button to write better. He shared, "When my heart is a hamster wheel, my inner life becomes a blur."  My lesson is to remember to pause, listen, slow down before writing.
Remember – This book reminded me to value the importance of making time for silence in which to listen to God. To learn to rely on God and join him in his kingdom work. To bear in mind that "rather than measuring the productivity of lives only in terms of what they do, unhurried leaders understand the importance of certain things they don't do."
Repentance – to humbly acknowledge it's about God, not me.  His work, not mine. His leadership, not my control.
Rest – Rest is as important as hard work. Even God rests.
Rootedness – Unhurried leaders are rooted in God's abundant presence, not lost in the fog of scarcity where I only experience anxiety, fear, and the drive to control.
Reflection – "Working with God does not begin with the question, what are we going to do? But rather with questions like What is on God's heart? And What would best serve the people? The first question in unintentionally self-focused. The other two questions are God –centered and people-focused and that is what working with God looks like." Again, our influence starts with God, seeking his kingdom first.
This book will challenge you to assess your spiritual influence no matter what roles you fill. Ponder what being an unhurried leader could look like in your life.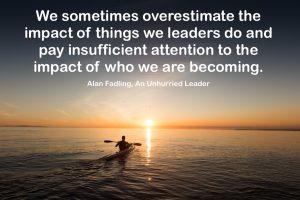 What leadership quality has God been showing you lately?