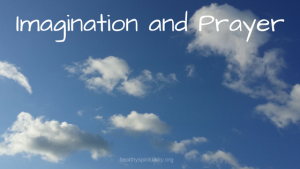 Do imagination and prayer work together? God has given us the gift of imagination. Seeing beyond what is tangible. Leaping into a world of potential opportunity. Crossing back through time seeing events like we are there or transforming ourselves into bible characters and witnesses to bible stories.
Dreams, plans, hopes all begin with imagination – we ask in wonder:  what could be?  What if? How would living this way appear in my life?  Imagination is freedom to see beyond our ordinary moments into grand possibilities.
"Think left and think right and think low and think high. Oh, the things you can think up if only you try!"
Dr. Seuss
Imagination cultivates ideas and dreams. I had a powerful experience of this right after we moved to the small town that is still home today.
As a nurse, I wasn't sure what I wanted to do next in my career. I attended a nursing seminar where one of the activities was writing out in great detail what my ideal job would be. I had fun dreaming and imagining my work that would help others and bring me joy too.
I was surprised ten years later to run across that tiny slip of paper, folded up in the bottom of a drawer, forgotten at least consciously. I smiled amazed as I read it – my imagined ideal job matched in uncanny similarity the work I was doing at the health department at that time.
Imagination plants seeds that blossom beautifully and bear fruit.
Imagination will often carry us to worlds that never were.
But without it we go nowhere.
Carl Sagan
Imagination and Prayer
Using imagination in prayer has been a spiritual practice for many centuries. St. Francis of Assisi encouraged others to create nativity scenes at Christmas time – enriching our holidays with imagined scenes of Jesus' birth.
Four centuries later, St Ignatius of Loyola introduced imagination and prayer as an essential component of his Spiritual Exercises.
I like how Ignatius invites us to enter the Bible stories, seeing the story come alive through the characters and with our senses.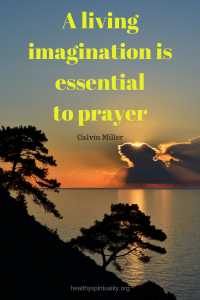 Here are 10 steps in using imagination in prayer:
Get comfortable in a quiet place. Ask God to be with you as you read a Bible story and guide your imagination as you enter the story. Receive with an open and willing mind and heart.
Pick out a scripture reading. Read it through slowly. I find reading aloud helps. There are many to choose from: this week's gospel reading in the revised lectionary is a great example: Mark 4: 35-41 – Jesus calming the storm. One of my favorites is Mary Magdalene meeting Jesus after the resurrection.  Here are a few others:
Jesus Heals Two Blind Men (Matt 9:27-31)
Jesus Walks on Water (Matt 14:22-43)
Jesus Heals Jairus' Daughter and the Bleeding Woman (Mark 5:21-43)
A Woman Anoints Jesus (Mark 14:3-9)
Jesus' Heals in Simon's House (Luke 4:37-41)
Jesus Goes to the Cross (Luke 23:26-30)
Jesus Raises Lazarus (John 11:28-44)
Thomas Believes Jesus Is Alive (John 20:24-29)
3.  Close your eyes. What character attracted you? Who are you in the scene? You don't have to be a "main" person from the story – just one of the crowd works often for me.
4. Imagine the scene as if you were standing there. What do you see? What do you hear and smell? What noises surround you?
5.  Listen to the conversations. What is the mood – joyful, fearful, angry, confused?
6. Let God lead you in any way your imagination creates. This isn't the time for scripture accuracy – this is time for God to reveal his love and message directly to you. Allow the scene to unfold in your "mind's eye" for as long as needed. Sometimes I see Jesus in his carpenter shop. I have no idea what type of tools he used so I just see him at work whatever my mind envisions. Imagination and prayer knows no limits.
7. You can use your imagination with prayer using icons, paintings, flowers/nature, stained glass windows, music, and dance too.
8.. Be ready to be surprised. God loves to show us new ideas in our imagination with him.
9. I close my time wandering in God's worlds in my mind and heart with prayers of thanksgiving and praise. Often, I write out my adventures in my journal – where when rereading later, more insight is revealed. God is so good to continue to teach and shape us.
10. I use my imagination and prayer to enter God's presence too. Sometimes I am walking along a path with Jesus. Sitting in rocking chairs by a roaring fire with the Holy Spirit. Just simply resting my head on God's lap as I sit at his feet. Imagination opens up an intimacy where I can talk honestly with God and listen deeply to his voice. I read the scriptures as if God is reading them to me – his song of love found in his holy word. I "see" me placing and letting go of my worries, fears, and ego into his hands, resulting in peace and freedom to just be, be his beloved child.
Imagination is a powerful yet often overlooked gift from God. It engages the mind, body, and soul in experiencing the holy. It deepens us into God, not staying on the outside of the words, but entering into Word. Imagination is another way of knowing and loving God.
How have you used imagination and prayer?
This post is part of our summer Pilgrimage with Prayer. Be sure to subscribe so you get each post during this special focus on growing closer to God through prayer. What's in your prayer tool box?