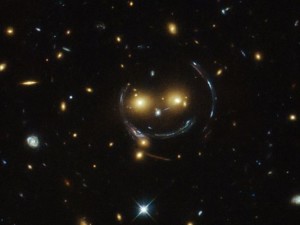 I saw this photo from the Hubble space telescope last week and just couldn't get over it. My, doesn't God have a sense of humor.
Visio divina is a practice I have mentioned previously here and here on this blog: when we gaze prayerfully over a photo/painting/icon and allow the image to invite us into a conversation with God. I centered on this newly discovered space photo as my prayer practice this past weekend.
One of my most favorite quotes – one that is display on my desk so I can easily see it as I write is from Anthony deMello:
"Look at God
Looking at you…
And smiling…"
Like a loving parent beholding at their sleeping infant.
Watching us with consuming compassion and mercy.
Picking us up, drying our tears and holding us as we sob.
Smiling, not at us, but with us, tenderly knowing the depth of our emotions.
What love we drink in as children of God.
This photo brought me to several Bible verses to ponder and journal about:
Why are you down in the dumps, dear soul? Why are you crying the blues? Fix my eyes on God— soon I'll be praising again. He puts a smile on my face. He's my God.
Psalm 42:5 (The Message)
He brought me out into a spacious place; he rescued me because he delighted in me.
2 Samuel 22:20 (NIV)
May the Lord smile on you and be gracious to you.
Numbers 6:25 (NLT)
I plan on smiling more. The practice of smiling not only lifts my spirits but hopefully those around me too. 
And just maybe, I will catch a glimpse of the Lord smiling back at me and I will dance with delight.
Smile!