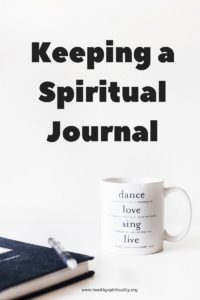 Keeping a Spiritual Journal – Types
Keeping a spiritual journal can be accomplished in different types or formats. Exploring this practice is the topic for June's Tending the Holy Thursdays. 
Each month on my Thursday posts I pick one theme (or person of faith) to explore deeper. So far this month we have looked at why you would want to write a spiritual journal and you can read that post here.  Last week I shared 13 tips of keeping a journal.  Next week I will spill the beans and tell you about the practice within this practice, my secret sauce, that continues to inspire and deepen this practice on my faith walk.
Each month I create an additional free resource for you based on the current topic, so this mouth there is a Keeping a Spiritual Journal Tip Sheet. You can get this free by clicking on the button at the end of the post. It is my hope and prayer that this series and the tip sheet will enhance your walk with God.
I would love to have more email subscribers and to connect with you on social media. So if you don't get Healthy Spirituality in your inbox, don't forget to sign up.
Keeping a Spiritual Journal – Types – Paper
There are tons of options for keeping a spiritual journal on paper. I prefer an 8×6 lined journal like the kind you find in many stores. Some people don't like the lines, especially if they like to draw. Since words are my artistic medium, lines work the best.  I also like the ones that come with an elastic bookmark band. Spiral bound is wonderful. Having a fun, inspiring saying on the front or a pretty design also adds sparkle. Picky, aren't I?   For a time, I used a three week notebook, divided into sections such as life, prayers, quotes. So try different types until you find what suits you best.

Lots of people love the moleskin brand of journal. They can be expensive but they are very durable. Michael  Hyatt wrote a few years ago about ditching his moleskin journal for the ecosystem found at Barnes and Noble. 
Bullet journaling is quite the hit. Here is a great article about this type of journaling. 
And then there are the growing phenomena of Bible Journaling. Now if you don't like your Bibles to be written in, you better skip this one. Not only are people doodling in the margins of their bibles, especially Bibles printed with wide margins just for this purpose – people are being creative all over the page.  Here are a few examples: How to Start Bible Journaling  and Welcome to Bible Journaling.  Personally I have been using a bible with wide margin for journaling. Not being much of an artist, I stick to writing in the margins not over the text. I do highlight and underline and have occasionally gone wild with circling…LOL.   I also have the book Writing in the Margins by Lisa Nichols Hickman which gives great examples of bible journaling. 
I generally only have one journal going at a time but fellow blogger and frequent commenter on this blog, Nancy Ruegg left this message on the first keeping a spiritual journal post:  "1) for special blessings (a loose-leaf notebook started in 1983, with over 1100 entries), 2) for quotes (113 pages worth–though the pages are small), and 3) favorite scriptures and the reasons why (started in January; I'm mid-way through the psalms now), 4) for exploring my inner thoughts, based on a prompt from something I read or hear (started just last October)"   Aren't those wonderful ideas!! I know people who keep a travel or gratitude journal or a journal to record a significant life event such as a pregnancy or time of enduring a health threat.
You could try a one-sentence journal or a five-minute journal. Both types encourage you to answer a simple question each day such as What would make today great? What am I most grateful for today? Three amazing things that happened today. Here is a good article about one sentence journaling.  

How about a letter journal where you write letters to a loved one like a grandchild for them to read at a later date?  Or a "What I Believe" journal to record your values and beliefs that guide your life.

When my kids were babies, all I had time for was to write a few words on a calendar. That worked for that season of my life!

Have your read about Journaling in the Round? This method is similar to mind-mapping where you start with circle in the middle for the day and date, then record events around the clock for structure for that day. Reflections are written on the side and notes taken on questions like What am most grateful for or What was most life-giving today?  Check out this article for a specific example.
Julia Cameron recommends keeping Morning pages. This is free writing the first thing in the morning to get the juices running, capture creative thoughts and for whatever is piling up in  your brain.   Here is a good article about how one writer applied this technique. 
Keeping a Spiritual Journal -Types – Digital
Some of you may prefer to only keep a digital journal. One easy way is just to use the  word processor in your computer or IPad.  Don't forget though to back up your work.

Have you tried speaking your thoughts into your phone or computer?  I have used the voice memos app on my IPhone and heard of others using Dragon Naturally Speaking or other recording devices on their computers.  Though not 100% perfect yet, the technology is really improving.

Other people like software like Evernote or One Note.

Don't forget blogs were originally online journals.  I know I have literally copied one of my blog posts to shrink and paste into my journal since what I wrote captured a feeling, experience or thought so precisely.  Remember you can set up a blog that is private so not seen by other people.

There are multiple phone apps for journaling such as My Wonderful Days Lite, Daily Diary, and My Daily Journal.
Don't forget to get the free Keeping a Spiritual Journal Tip Sheet by clicking on the button below.  Join us next week for one more  post about journaling and if you know someone interested in this topic, be sure to share it with them. Would love to connect with more people for this exciting spiritual journey we are are sharing together.
Click Here to Get the Tip Sheet
What is your favorite format for keeping a journal?