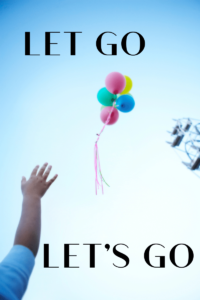 "Go" is my word for 2021 and for such a short, simple word I have been amazed how it has weaved its meaning into my life this year.  For some earlier examples, you can reread these blog posts here and here.
This past week "Go" tickled my imagination during my practice of breath prayer. A breath prayer is a very short prayer that can be said in one breath and repeated throughout the day. It is an ancient form of prayer, found in writings as early as the second century. The prayer communicates a sense of nearness with trust and dependency on God.
Perhaps the best-known breath prayer is called the Jesus Prayer.  "Lord Jesus Christ, Son of God, have mercy on me a sinner."
That morning I inhaled "Let" and exhaled "Go" as I relaxed into God's arm and surrender the many attachments coming between us. I loosened my grip on concerns and future non-existent anxieties.
"Let go."
"Let go."
Then I noticed a whispered change, "Let's go." "Let's go."
A simple apostrophe and the letter "s" dramatically changed the meaning and even the energy in my prayer.
I sensed God inviting me to follow him. To delight in his presence. To be with him in all the nooks and crannies of the day. Accompany God into adventures, not bogged down with anxiety.
God's "Let's go" rang with playfulness, joy, and grace.
Both prayers felt right during their time. The evolution of the phrase reminded me to let go and let God be the word. Too often I try to direct God (like I could do that, duh!) instead of letting go of my ego and melting into his presence.
God's gifts continue to surprise me. I received two gifts – letting go of anxiety and let's go onto an amazing adventure.
How has God surprised you lately?