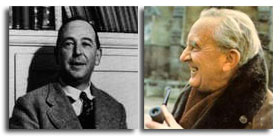 Lewis and Tolkien has a special friendship. I read a few months ago the
J.R.R. Tolkien
wrote in a letter following the death of
C. S. Lewis
:
"But for his interest and unceasing eagerness for more I should never have brought The Lord of the Rings to a conclusion."
We saw
the Hobbit
over the holidays and rewatched all three parts of the Lord of the Rings. What fantastic story telling. And to think, we may never have heard of Tolkien if it wasn't for a friend.  But I have recently learned we may have never heard of C. S. Lewis either if it hadn't been for Tolkien. Lewis and Tolkien had a relationship that nourished one another.
As iron sharpens iron, so one person sharpens another.
The encouragement and determination friends like Lewis and Tolkien gave to one another now enriches the whole world.
One plus one equals More.
Therefore encourage one another and build each other up, just as in fact you are doing.
Lewis listened for hours as Tolkien shared with their reading group, The Inklings, the developing chapters of The Hobbit and the Lord of the Rings.
Tolkien's faith influenced Lewis's beliefs who eventually became a Christian.
Tolkien's deep passion for imaginative stories awakened Lewis' creative process and tales from Narnia emerged.
Both men found deeper meaning to life by knowing each other. Often writers are introverts and solitaries and both could have written by themselves to some success. BUT together, Lewis and Tolkien cultivated creativity, nurtured imagination, and energized each other to amplify the gifts that God gave them.
One plus one equals More.
I wrote about sisterhood on Tuesday and as I ponder friendship, I am filled with thankfulness for this priceless gift from God. God gave us each other for encouragement, support and sharpening. Then He mysteriously sprinkles us with His synergic spirit for His divine new math of:
One plus one equals More.
How has friendship like Lewis and Tolkien strengthen you?