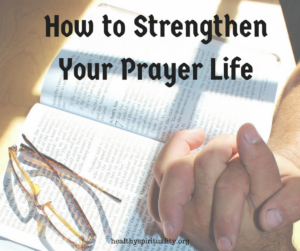 This month we have been exploring prayer on the Tending the Holy Thursdays. Each month on my Thursday posts, I pick one theme (or person of faith) to explore.
The past few Thursdays, we looked at the flow and rhythms/habits of prayer and last week listed some tools and thoughts about prayer.  I thought we'd finish with an example how one man's passion for prayer led to his whole life becoming prayer.
Each month I also include a free download to accompany the month's topic. This month I took a PDF I offered one time last year and expanded it to include new information.  "Prayer: 13 Ideas for Keeping Prayer Fresh" is available at no cost by clicking the button at the end of this post. I added ideas for prayer triggers and included a list of well-loved prayer from others besides adding new resources. It is my hope and prayer that this series and the download will enhance your walk with God.
Be sure to sign up to get Healthy Spirituality in your inbox, so you don't miss any of the weeks (I promise I never over-send stuff to you). And invite your friends to this blog and share on social media.  I sure do appreciate the support in spreading God's word.
Frank Laubach –  a Life of Prayer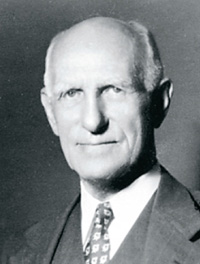 Frank Laubach lived from 1884 to 1970. He was/is known for two legacies: literacy and loving God.
Born in Penn, he became a missionary after being educated at Union Theological Seminary and Columbia University.  In 1915 Laubach and his wife went to the Philippines to establish churches there.
Returning there again 1930, he dared to work with a tribe who regarded Christians as enemies. Full of the love of God, he lived among them, not to convert them, but to love them within the love of God.
The story goes that he became so discouraged at first with his work with this tribe. Previous missionaries failed and he thought he failed too.  After long periods of prayer he felt God telling him:
"My child, you have failed because you do not really love these Moros. You feel superior to them because you are white. If you can forget you are an American, and think only how I love them, they will respond."
His whole attitude changed, he became a companion, walking along side of them, learning their ways and accepting them as they were. Bridges opened and hostility decreased.
While living within this remote group, he developed a literacy program called "Each One, Teach One." His program continues today with as many as 60 million people learning to read in their own language.  He traveled teaching this method to more than 100 countries and worked with 312 languages.
Time Magazine later nicknamed him "Mr. Literacy." On the 100th anniversary of Laubach's birth, the United States Postal Service honored him with a stamp as part of the Great Americans series.
Laubach also had a passion for history, justice, and poverty. As a writer, he translated biographies and history of people from the Philippines.
The love of God undergirded his whole life. Perhaps Laubach is best known for a pamphlet called "The Game with Minutes," where he encouraged others to keep God on their minds and hearts at least one second every minute of the day.  His deep desire was to live a life of unceasing prayer.
How Laubach Led a Life of Prayer
Frank Laubach's journals and diaries give us insight to how he lived a life of prayer. This life long process recorded his successes and failures.
In 1937 he wrote, "God I want to give you every minute of this year, I shall try to keep you in mind every moment of my waking hours."
In the "Game of Minutes" Laubach shared:
"We make Him (God) our inseparable chum. We try to call Him to mind at least one second of each minute. We do not need to forget other things nor stop our work, but we invite Him to share everything we do or say or think. Hundreds of people have experimented until they have found ways to let Him share every minute that they are awake. In fact, it is no harder to learn this new habit than to learn the touch system in typing, and in time one can win a high percentage of his minutes with as little effort as an expert needs to write a letter."
Laubach wasn't afraid to experiment with prayer. Within a few weeks, he noticed differences and was sensing God's presence more during the day. He wrote, "I need something, and turn around to find it waiting for me. I must work, . . . but there is God working along with me." 
Click here for a pdf version of Game with Minutes that is available on the Internet.

What a wonderful image of God as the "companion of my conversations."
How Can We Too Have a Live of Prayer?
We can learn from Laubach's passion and desire for prayer.
Ask God to help teach you. Focus first on God's love, then be open to his guidance.

See Christ in others. See the person right before you as they are and the person God longs for that person to become.
Put an empty chair nearby and imagine God sitting there with you. I love doing this either when I am alone or in a meeting or around the dining room table. Listen to God.
"The trouble with nearly everybody who prays is that he says "Amen" and runs away before God has a chance to reply. Listening to God is far more important than giving Him your ideas."
Frank Laubach
Form the habit of talking with God like a friend during the day or at night as you go to sleep.
In Laubach's life we see how he was open to God transforming his life, attitude and beliefs. We too can ask for an open and willing heart.
Hum your favorite hymn of prayer.

Don't forget I have an updated and expanded PDF "Prayer: 13 Ideas for Keeping Prayer Fresh" available free by clicking this button.
How could you play the game with minutes with God? What reminds you of God during a busy day?
P.S.  AN EXCITING ANNOUNCEMENT
Looking for a new devotional for Lent?  My latest book, 40 Voices: A Lenten Devotional is now available on Amazon. I hope it blesses your journey by hearing the voices of the places and people in Jesus' last week on earth. And would love to have you leave a review on Amazon too if you read it.
This year Lent begins March 1 – Let's draw closer to God by digging deeper into Jesus' story between now and Easter.