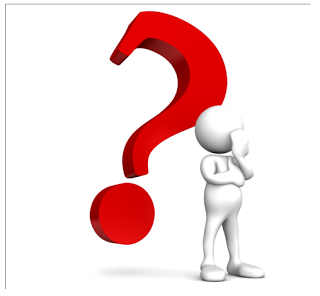 "Be patient toward all that is unsolved in your heart and try to love the questions themselves, like locked rooms and like books that are now written in a very foreign tongue.
Do not now seek the answers, which cannot be given you because you would not be able to live them.
And the point is, to live everything.
Live the questions now.
Perhaps you will then gradually, without noticing it, live along some distant day into the answer."
I used to more uncomfortable with uncertainty. That tension between knowing and the living in the gray area of unknowing. I used to seek the supremacy of feeling you are in control, having your act together, wearing the prettiest mask.
What happen to curiosity? To taking the risk to ask questions you know you won't be able to answer for a long time, if ever? To not know and to question and live with hazy vagueness?
I know I am not the only one who recognizes as life goes on, we don't have the answers and the only real path to growth is asking and as Rilke writes in the above quote – living the questions. My friend, Michelle DeRusha wrote her memoir, Spiritual Misfit, about her journey through doubt and how that helped her to discover herself and her faith. Her recent column, When One Small Question Changes Everything, summarizes the topic of questions quite well.
I just finished a great, thought provoking book that really spark these ideas within me. I borrowed "A More Beautiful Question" by Warren Berger from the library but know this is one that I will eventually purchase. His title comes from E. E. Cummins:
Always the beautiful answer
Who asks a more beautiful question.
Why do we shy away from the beautiful questions in life? Questions that leave us unsettled and searching. Questions that perhaps magnify what we already know that we don't know and are not in control. Questions that rouse us from our comfort zones to enter the unfamiliar mystery of life and faith.
I get so caught up with busyness and details, I often don't even know what questions to even begin to ask.
Warren Berger, as a journalist, asks questions. He has studied creative thinkers and problem solvers and discovered how they learn to ask questions, generate new ideas and take risks to make the world better. He was intrigued by the art and science of questioning and wrote this fascinating book
He explores the power of inquiry, why we stop questioning, the why, what if and how of innovative questioning and ways to use questioning in business. My favorite chapter and the reason I recommend this book for anyone who is self-reflective and wants to be more open to God, is the last section on questioning for life.
He includes a list of questions to help us dig deeper. Berger inspires the reader to feel more comfortable with the Why question, to explore the Why not options and opportunities that leads to exciting how's. I felt empowered after reading this book.
"If you don't have that disposition to question, you're going to fear change.
But if you're comfortable questioning, experimenting, connecting things – that change is something that become an adventure.
And if you can see it as an adventure, then you're off and running."
As a spiritual director, I often listen to people in times of discernment, in transition. Often those periods are confusing, difficult and full of endings with little new beginnings yet in sight. Finding, exploring and playing with the right questions gives us a tool to guide us through these times.
Here are some examples:
What is your sentence? – how do you sum up your life in one sentence?
How might I live up to my sentence?
Why am I climbing this particular mountain? Am I enjoying the climb itself? What am I leaving behind, down below?
Is there something else you might want to want – besides what you've been told to want?
When I look back in five years, which of my options will make a better story?
What am I grateful for?
What has worked for me before and how can I bring more of that into my life now?
What did I love doing as a child? (Yes Tuesday's blog post!!) 
Why do I seem to "shine" when doing certain things? What if I could find a way to incorporate these interest/activities into my life more? Even into my work? How might I go about doing that?
What if I made one small change?
What if you could not fail? What does failure mean to me? How do I distinguish between acceptable failure and unacceptable failure? What if I failed – how would I recover? What if I did nothing? What if I succeeded?
Finding that one perfect beautiful question isn't easy but this book has inspired me to begin to explore and seek that question. The more I live the more I realize life exists and grows in the questions.
How about you? What questions are you asking lately?