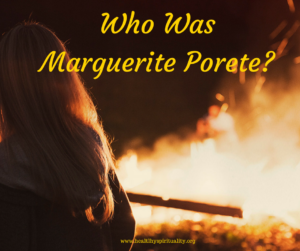 Who was Marguerite Porete? Last week we met two Beguines, Hadewijch and Mechthild. This week Marguerite Porete is coming for a visit.
In October, we have been exploring who the Beguines were and been learning about several of the women whose names we know from history. This is part of Healthy Spirituality's Tending the Holy Thursday series that highlights a spiritual practice or a person(s) of faith for several weeks, so we can explore the topic with more depth. You can check out the first post in the Beguine series here to catch up on the history about this fascinating group of Christian women from the 1300's and then last week's Beguine women here. 
As usual with each month's theme, I have an additional FREE download for you. I created something different this month: a fun word search using words describing the Beguines. You can get this freebie by clicking on the button at the end of this post.
Who was Marguerite Porete?
Born in France in 1250 and is known as a Christian mystic.

Criticism about the Beguines increased during her time due to their (including hers) writings, teachings and independence.

Many women were accused by the Inquisition of belonging to the "Sect of the Free Spirit."

In 1311-12, the Pope instructed bishops to take action again the suspect Beguines and charge them with heresy.

She wrote "The Mirror of a Simple Soul" (wow, 60,000 words!) which is basically about a dialogue among the imagery of Love, Reason and the Soul.

Marguerite Porete wrote "The Mirror of Simple Souls" in the vernacular, the common language rather than Latin and its popularity contributed to the suspicion among religious authorities.

As the title suggests, Marguerite Porete's book refers to a simple soul united with God who has no other will than God's.

Church officials were not happy with her words and ordered her to withdraw her book.

Marguerite Porete refused and was imprisoned in Paris for 18 months.

During her time in prison, she was silent and wouldn't answer anyone's questions.

Her book was even burned publicly and its use was condemned, but her book continued to be circulated.

At her trial in 1310, she was declared a heretic and burned at the stake on June 1st.

She refused to recant her words and many who witnessed her execution cried due to her piety and faith.
The Writing of Marguerite Porete
Some call her book, The Mirror of the Soul, a spiritual handbook.

Marguerite Porete described seven stages of the life of the soul beginning with being touched by grace and extending to the indescribable seventh stage after death.

I had to read her words slowly and out loud, but you can gather her intent from the following passage:
"I am, says this Soul, by the grace of God that which I am. So I am that alone and nothing else which God is in me; and God is also that same which he is in me; for nothing is nothing. But what is, is. And so I am not, if I am, except that which God is; and there is no one except God and therefore I find no one except God, wherever I enter, for, to say truly, there is not one but him."
"Love: Such a soul, says Love, swims in the sea of joy, that is in the sea of delight flowing and streaming from the Divinity, and she feels no joy for she herself is joy and so she swims and flows in joy without feeling any joy for she dwells in joy and joy dwells in her; for through the power of joy she is herself joy, which has changed her into itself.  
Now they have one common will, like fire and flame, the will of the lover and that of the beloved, for love has changed this soul into itself."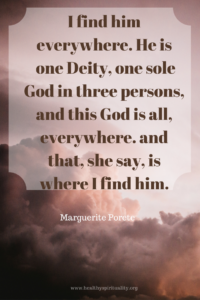 For this Marguerite Porete died?   Hard to believe, isn't it? 
Our words and our beliefs are powerful, can live for centuries (think about the legacy you can leave for generations!) and continue to call people closer to God to be transformed and shaped by him.  
What does this stir within you?
Don't forget to download your free wordsearch about the Beguines by clicking on the button below.  I would appreciate you sharing this post with others and inviting more to visit Healthy Spirituality. We are building a great community here. Thank you!
  Click Here to Get the Wordsearch. Enjoy!
What have the Beguines taught you?  How will you use your words to change the world?