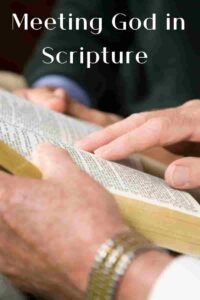 "Meeting God in Scripture" by Jan Johnson is the next book to reread, to immerse myself into its wise words over this summer. What fun I have had perusing my shelves, listening to their invitations.  To be honest, sometimes many of the books shout, "Pick me!" so I pause and listen quietly to which voice resonates within my heart.
I have been revisiting my bookshelf this summer and decided to make this a series in the month of August. Each week I will rediscover an old friend, reread its wisdom and share a title, its theme, a few quotes, and a small reflection/application.
Meeting God in Scripture
This book offers 40 guided meditations in the style of Lectio Divina. Lectio Divina is sacred reading grouped by reading a passage four times, once to read, next to reflect, then to respond, and last to rest, contemplate and listen to God.   
The unique gift of this book is its set up for easy to find, read, study, and even use in a small group.  Most readings are 2-3 pages with guided thought-provoking, going deeper questions for each of the steps. Great guidance for the beginner of Lectio Divina and even the experienced. Each reading also would make for a great journaling prompt or to take on a personal retreat.
Readings are divided into sections such as What does God think of me? Who am I and how do I fit in? Facing fears, frustrations, and discouragements.
I reread the chapter called Abiding in Christ with the slow reading of John 15: 1-11. Sample questions include: What does contact with Christ or abiding in Christ look like in your life? What activities help put you in contact with God?
For the first time I noticed a connection in these verses between abiding and the fruits of the spirit, especially joy.
Immersing in rereading books from my shelf and a renewed immersion into Scripture. Can't go wrong with this practice!
What are you being immerse in this summer?  How are you meeting God in scripture?