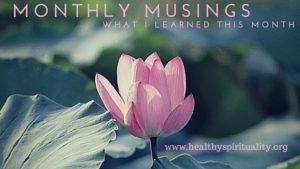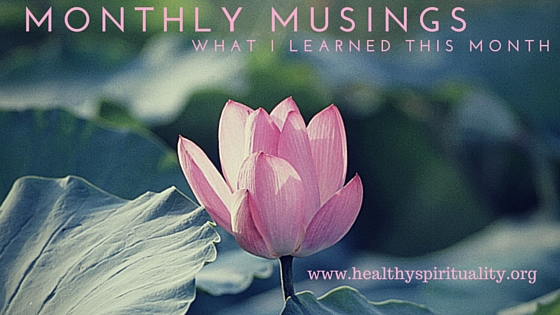 July Monthly Musings
What? It's the end of July already?
I don't know about the rest of you but sure seems like time is flying faster than ever before.
I want to savor summer.  Enjoy life.  Taste the fresh fruits and veggies. Feel the sun on my face. Sand in my toes. Swing on my backyard swing. Spend time with friends and family. Hear water rippling in my pond. Praise God along with the chirping birds.
Breathing in these types of moments pauses time momentarily and allows joy to seep deeper into my soul.
What are you savoring about summer?
Each month I look back at what I am discovering, learning, and exploring in life – I call these my monthly musings. Capturing these special moments gives meaning, depth, and delight to life. Let's wake up to the wonders in the ordinary all around us.
I record what I notice on the pages of my Monthly Musings Journal. You can use anything, scrapes of papers, a journal, or a calendar. Copies of my Monthly Musings Journal are available on Amazon and are a convenient way to keep track of the little things in life we often miss. Or if you want to click the button at the end of this post to get a FREE copy of my one-sheet Monthly Musings handout.
Monthly Musings Lesson Learned:
In addition to savoring the moments, I am intentionally practicing silence, solitude, and stillness in preparation for my annual silent retreat in a few weeks.
Quieting my heart.
Letting go of my agenda and expectations.
Opening my hands to receive and be with God.
I am venturing out, taking a new risk too by going to a new retreat center for me – the Jesuit Center in Milford Ohio, near Cincinnati.  I will be sure to blog about my time there in August and share some photos of their grounds.
Yes, I am a little anxious about a new place, new people (I won't know anyone) and the unknown. Their silent retreat sounds similar to the others I have attended, but I am sure there will be some great surprises too.  God is good at that – reminding me He is in charge, not me.
Trusting God. Taking a leap. All will be well.
Monthly Musings Good Reads:
I shared some of my summer reading in this post.  Here is one other book I have opened this summer:
Mindful Silence  – the Heart of Christian Contemplation by Phileena Heuertz. She shares her own journey of spiritual formation, leading retreats, and offering spiritual direction along with the guidance of various spiritual practices. This book would be a great introduction to contemplative practices.
This blog post titled Ignatius and Me: First Principle & Foundation was a great reminder of how Ignatius teaches us about attachments and keeping God as the center of our lives
Monthly Musings Word of the Month:
Remora is a noun meaning an obstacle or hindrance.
Remora is first recorded in English in the early 16th century as a name for the suckerfish, which has sucking disks on its head by which it can attach to the likes of sharks, turtles, and ships. This name is found in Late Latin in the 4th-century a.d., so-called because the fish was believed to slow the progress of ships
What remora is blocking you from God?
Wise Words to Remember:
I used to ask God to help me. Then I asked if I might help Him. I ended up by asking God to do His work through me.
Hudson Taylor
The spiritual life starts at the place where you can hear God's voice. Where somehow you can claim that long before your father, your mother, your brother, your sister, your school, your church touched you, loved you, and wounded you — long before that, you were held safe in an eternal embrace. You were seen with eyes of perfect love long before you entered into the dark valley of life.
Henri J. M. Nouwen
And fitting my theme of this month's ponderings:
Surprise is the seed of gratefulness. Become aware of surprises, Relish surprise as life's gift.
Br. David Steindl-Rast
Fun and Innovative Ideas I Discovered:
I can't wait to share this creative idea with our local librarians: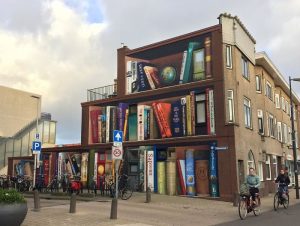 How was your July?
If you want a copy of my cheat sheet, I have made it into a free downloadable printable and you can just the button to get the free printable. I compiled these sheets plus additional information in a book, a two-year journal that is available on Amazon. I don't want to lose the loose sheets of paper and think having it in a book form will make it more of a keepsake. Keep all YOUR musings in one place.
Click here to request your Monthly Musings Printable
What did you learn in July?  Please share – I would love to hear about your journey and all your life lessons.