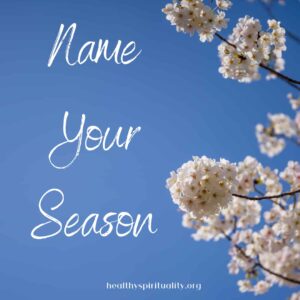 What season are you in right now?
Depending on how you define the word "season" will influence your answer.
Is it winter leaning into spring? Is there a change in life/job/role?  Is it quiet/growth/turmoil/change? Is it a new decade of life or significant birthday/anniversary?
What a good question though to ponder and explore to help know what is impacting and shaping you currently on your spiritual journey!
In looking at the calendar year I am in the season of spring. Yes I know, I know, the official date of spring is a few weeks from now but if you listen closely to the meteorologists, they will tell you March 1 is the first day of metrological spring. Yah!
Take a moment and consider the next three months – the months of spring. March. April. May. What gifts will these three months bring? What will I learn by paying attention to them? Where is God inviting me closer now and into the near future?
The season – I decided to name it and proclaim it.
Name the Season
I began to name my season by studying my calendar and desired goals.
I looked at upcoming activities, deadlines, realities, hopes and dreams. In my prayers and journaling I sat with God asking for guidance and insight to this season. I realized each month offered distinct qualities and each one varied slightly with time obligations and relationship opportunities. A theme for each month appeared.
March – Reconnect
April – Finish
May –Enjoy
I won't bore you with all the details, but March will be a time to reunite with lifelong friends in Texas, scheduling get-togethers with geographically closer friends and attending a 4-day silent retreat to spend time with God and listen to my own soul.  Weekly Lenten services. Intentional readings. Following up on items left undone last few months.  I guess March's word is reconnect.
April – Work will be focused heavily on finishing final edits of my work in progress book due to the publisher in May. I spent last month revising it before sending it to a developmental editor for her input which I should get back by end of March. Then the final rewrite efforts begin before submission. A huge project to complete at least this portion of this writing journey. April's word is finish.
May is a time to enjoy. As part of my hubby's and mine year long celebration of 50 years of marriage we plan to travel – something we both enjoy. I hope to savor and relish the two trips scheduled for May (more on those later).
Proclaim the Season
I hereby proclaim the themes for this upcoming season as reconnect, finish and enjoy!
What an insightful practice this was to pause and ask where I am now and what is happening that is shaping my life journey? Giving each month a name may seem silly but actually helped me focus and become life-giving. A simple discipline providing a way to live a reflective life.
How are you naming your seasons? What helps you live a reflective life?