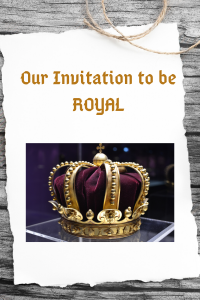 Are you royal?
But you are a chosen race, a royal priesthood, a holy nation, God's own people, in order that you may proclaim the mighty acts of him who called you out of darkness into his marvelous light. 1 Peter 2: 9
I helped to present a program last week about filling our wells as a writer and used the acronym of ROYAL. Not surprising the writers loved it and added more concepts to each of the letters.
Is Your Well Full or Empty or Someplace in Between?
What is the level of your well? That place deep inside you where you find peace, strength, wisdom? That reserve that keeps you going?
Are you burned out? Is Covid draining your soul? Is the uncertainty of this time we are living in depleting your soul?
Good news: God doesn't burn out.
Exhaustion, burnout, and depression are not signs that you are doing God's will. God is gentle and loving. God desires to give you a deep sense of safety in God's love. Once you have allowed yourself to experience that love fully, you will be better able to discern who you are being sent to in God's name.  Henri Nouwen
I like to think about wholelistic health as multidimensional. Take a moment and imagine a continuum. How do you currently rate from 1 to 10 in each of these areas?
Yes you can have more than one answer. I have been snacking and eating way too mindlessly during the past few months, so my eating is low on the continuum. But I have maintained my walking programs very consistently so yah, for me, higher mark there. By rating even the subdivisions within each dimension, strengths and areas that need attention become apparent.
Physical
Mental/Emotional
Social
Spiritual
Financial
Questions to ask: Are you filling your well or is life-draining all the good from your soul? What gives you life? Energy? What gives your life meaning and purpose? What gives you hope? What helps me or has helped me in the past get through the tough times/ rebuild my reserve?
This assessment identifies where we are now and the word ROYAL gives us guidance to move forward into the future.
Back to Being ROYAL
The theme of being ROYAL lingered in my heart and saturated my prayers. I asked God to open my eyes to see how to live as his princess, his royal daughter. How was he inviting me to grow in this area? Here is what emerged, bubbled up and what the other writers created as we considered being ROYAL.
ROYAL
R – Read – Reading the Bible, spiritual books, fun entertaining stories, inspirational blogs. Find a book to read or listen to as an audible book. Reading feeds the mind and reenergizes the emotions.
O – Observe. There is power in paying attention. Look around. Work those questions above. What has taken over your life right now? (for example, I noticed I am playing more games on my phone, relaxing but a real time consuming and to be honest, a wasteful use of time) I like the practice of zooming in and out like using a camera on my life at this moment. Zooming out to see the whole picture of what is occurring. The zooming in to see the details and often my next right step appears into focus.
Y – Yahweh – I wish in some ways the word ROYAL started with the letter Y but that wouldn't work. LOL. But filling our well, always begins with God. I come to him with my assessment and ask for guidance, wisdom, and grace.  "Y" reminds me to yield my negative mindset to lean into God's positive life. I yield to gratitude instead of whining. I yield my worries, anxieties, and fears into God's hands.
A – Adapt – One of the best pieces of advice I was ever given by people who lived and thrived into their 90s and 100s was: to be flexible.  Adapt.  Pivot.  2020 has not been comfortable for most of us, but hold the possibilities of lessons, new starts, and letting go of what no longer works.
L – Listen – Pause. Invite the silence to enter your heart. Listen deeply to God and to your own voice/soul. Pay attention to the whispers. You can also listen to others without judging and with a new openness but also selectively as there is so much noise outside.
ROYAL serves as a reminder for me as I navigate this interesting adventure of 2020. ROYAL affirms who I am – a daughter of a King and affirms God's presence even when doubt, fear, and shifting sand bring chaos.
God is so good.
What do you think of ROYAL? Add anything? How will you answer God's invitation to be ROYAL?