"Pay attention to the sparks."
I heard Problogger Darren Rowse share this wisdom on a periscope yesterday. He was referring to making note of all those gems of ideas that come along, often unexpectedly, nurse them and they could just be the "next big thing" in your life.
What is periscope you ask? It is live streaming video. You can check out my somewhat awkward attempt at broadcasting in this new medium at this site: https://katch.me/Jeanwise
Paying attention to the sparks is also a way to live a more reflective life – a great spiritual practice – and to capture those moments/tips/words of wisdom that mean so much to us, but we often forget. This method appeals to me because it is so hard to capture and remember good moments when life is moving so quickly and with so much noise.
Each month I share insights, tidbits of wisdom, resources I have discovered and life in general that I have observed in this feature called Monthly Musings.
Monthly Musings – October:
Lessons learned:
Life sure is easier when you don't break a toe. OUCH!
Good intentions just don't get things done. Several times this month I had to remember to focus on one thing at a time. Multi-tasking just doesn't work.
One of the best podcasts I heard this month was by Michael Hyatt, titled, The Treasure in the Trial. Here is the link to listen to it: worth your time!!
You can asked yourself all sorts of questions when going through a tough time: why me? Why can't I be enough? Why now?
Instead Michael encourages us to ask: What has this made possible?
Isn't that a great way to reframe how we look upon the difficulties of life and find its gift?
Good Reads:
I am still savoring Brene Brown's book, Rising Strong and Elizabeth Gilbert's Big Magic. 
Wise Words to Remember:
"I'm a late bloomer but anybody who comes into bloom is very very lucky."
Sharon Olds.
Terrific Tools and Fantastic Finds:
I am loving my new smartphone stand. Now I can find my phone on my desk and it looks so neat – just trying to fool people in thinking I am cool and organized.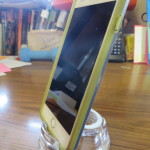 Joys and Delights:
Creating an altar by the place where I pray.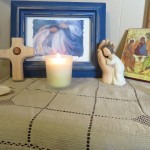 Having long overdue lunch with friends.
Grateful for hot water when our hot water tanked quit unexpectedly.
Memories to hold:
Going to the Horseshoe to watch our Buckeyes win.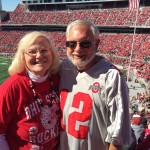 Seeing the sky one morning explode in brilliant pinks like God's bubble gum and then watching the trees turn canary yellow when the Master artist highlighted autumn.
Favorite posts:
What Symbols Encircle You in Your Portrait?
Darren Rowse, the Problogger I mentioned at the beginning of this post, who said "Pay attention to the sparks", finished his periscope with two great questions he asks at the end of each day.
What did I do today that gave me energy?
What did I do today that gave others energy?
I often close each day with the question: What am I most grateful for?
Recording these bits of life each month has shown me times for thankfulness and times of meaning in my life. I love capturing them so created a cheat sheet to help record my observations and fun finds as the month progressed.(see the end of this post to find out how to get a copy).
What did you learn in October?
If you want a copy of my cheat sheet I have made it into a free downloadable printable and you can request on in the window below. I finished compiling these sheets plus additional information in a book, a two-year journal that is NOW available on Amazon. I don't want to lose the loose sheets of paper and think having it in a book form will make it more of a keepsake. Click the button to get the free printable and if you would like check out my book on Amazon.