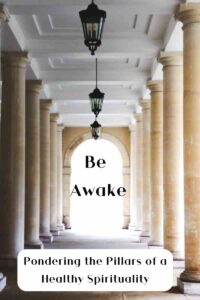 What are the pillars of a healthy spirituality?
In 2023 I plan to explore different building blocks, components, the essential nutrients that support a vibrant strong life with God. I hope to learn, study, and share thoughts about these various aspects and hope they bring fresh insights to all of our earthly journeys as God continues to shape our souls.
This week I am pondering being awake.
Being awake
"Just being awake, alert, attentive is no easy matter. I think it is the greatest spiritual challenge that we face." Diana L. Eck
Anthony DeMello tells this story:
"A group of tourists sits in a bus that is passing through gorgeously beautiful country; lakes and mountains and green fields and rivers. But the shades of the bus are pulled down. They do not have the slightest idea of what lies beyond the windows of the bus. And all the time of their journey is spent in squabbling over who will have the seat of honor in the bus, who will be applauded, who will be well considered. And so they remain till the journey's end."
I don't want to live with the shades pulled down. My prayer is: "help me be awake, Lord and see you in all your wonder and beauty."
Let's wake up. See beyond. Taste the deliciousness of God's gift of life.
Yet my ego, my worries, my fears keep closing those shades. The world doesn't help either. More mass shootings, polarizing politics, infighting in churches, never ending poverty and abuse – no wonder we get tired and just want to lower those shades.
And don't get me started on distractions…
We are in good company – even Biblical characters pulled the shades down. In Genesis Jacob travels on a long journey. He dreams of a ladder connecting heaven and earth and hears God's promise to be with him. When he awakes he says, "Surely the Lord is in this place, and I was not aware of it."
Not aware. Not awake.
Seeing and savoring God's beauty and grace dims in times of challenging life circumstances and upheaval can be difficult. New jobs, change in relationships, and traumatic news breeds doubt and launches us into a disorientation leaving us scattered and unsure. Our vision narrows due in this stress, and we miss God's presence and gifts. Our perspective quits seeing the details, the possibilities, the new opportunities.
What Does Being Awake Mean?
What does being awake even mean?
Being awake can be defined in many different ways, but for me it is observing objectively and living reflectively by being open and fully present to my surroundings. It's a curiosity to look beyond to Someone Beyond. To open the eyes of my heart to see more in the midst of More.
Instead of filtering life through the lenses of my ego and the world, I intentionally set aside these illusions. My vision seeks insight and meaning and to savor the beautiful gifts right before me now.
Instead of narrowness, I ask God to help me see with more compassion and greater connectiveness.
May our eyes and hearts be receptive to God's magnificent wonders all around.
How to Be Awake
The spiritual practice of paying attention is key to cultivating being awake. We stay alert or we may miss moments of grace, opportunities for gratitude and to serve others, and God's surprises throughout the day.
"My only prayer practice is paying attention. I carry on a habitual, silent, and secret conversation with God that fills me with overwhelming joy." Brother Lawrence
One aspect of being awake is playfulness – an element I usually neglect. Another I do practice is gratitude. Another is journaling – writing out observations about my spiritual walk with prayer, mindfulness, and reflection.
"Earth is so thick with divine possibility that it is a wonder we can walk anywhere without cracking our shins on altars." Barbara Brown Taylor
I think fifth practice is slowing down. Pausing. Taking deep breaths.
The role of contemplative prayer and Lectio Divina opens my eyes to God and deeper aspects of life. In stillness and silence, I listen better. Then I practice being with God instead of just thinking and reading about God.
All practices that wakes me up and turn towards God.
"For lack of attention a thousand forms of loveliness elude us every day." Evelyn Underhill
I feel I have only scratched the surface of exploring this first pillar of a healthy spirituality – being awake. I will stay awake to more insights and lessons from God re this piece of God's magnificent puzzle.
What do you think? What helps you wake up to God's gifts and grace? Please add to the discussion.
PS I created a download called the ABCs of Attention with a collection of practice ideas to build your awareness muscle. Click the bottom below to get it!

p>