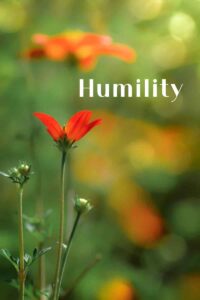 I humbly present the next pillar of a healthy spirituality – humility. I don't hear cheers and loud applause for this virtue. I know I hesitated even to invite humility to come to this blog, but felt it had insights for our spiritual walk.
In 2023 I plan to explore different building blocks, components, the essential nutrients that support a vibrant strong life with God. I hope to learn, study, and share thoughts about these various aspects and hope they bring fresh insights to all of our earthly journeys as God continues to shape our souls.
This is our second exploration of one of the characteristics of a healthy spirituality: humility and being humble. You can read about the first one. Be Awake, here.
Be Humble
Do you know this old song by Mac Davis?
Oh Lord, it's hard to be humble
When you're perfect in every way
I can't wait to look in the mirror
'Cause I get better lookin' each day
To know me is to love me
I must be a heck of a man
Oh Lord, it's hard to be humble
But I'm doin' the best that I can!
Makes me smile. To be honest, being humble is tough. Elusive. The minute you think you captured humility and can practice it well – poof! – you are no longer humble. This characteristic isn't high on many lists of desirable traits yet still belongs in the mix for cultivating a healthy spirituality.
Yes, this is a challenging practice, and I am slowly dipping my toes into its murky waters. Here are some thoughts, quotes and insights I've gathered so far.
Humility coming from "humus" meaning of the earth. Both it and humble have their origin in the Latin word humilis, also meaning "low." Humility requires honesty – a true self-assessment of ourselves.  That will keep us "grounded."
"Humility is not thinking less of yourself; it is thinking of yourself less." Rick Warren
Humility isn't a weakness nor shyness nor submissive. This trait is more like spiritual modesty knowing who we are and our purpose in the greater meaning of life. Then add a touch of being able to laugh at ourselves, not taking ourselves too seriously.
Humility is often called the highest virtue in contrast to pride the worse vice.
Humility is a spiritual discipline that takes practice and a willingness to surrender to God.
Do nothing from selfish ambition or conceit, but in humility count others more significant than yourselves.Let each of you look not only to his own interests, but also to the interests of others. Philippians 2: 3-4
Foster shares his yearlong study pondering and exploring humility. He writes this study taught him a deepening conviction that humility is a virtue worthy of his best efforts. He grew in his ability to genuinely enjoy the accomplishments of others and he discovered the inner urge to control or manage others grew less inside of him. Amazing benefits of this practice.
I also appreciated his wisdom that humility is not achieved solely by human effort as in I am trying to improve myself attitude. Instead he writes, "humility is a grace given by God as we orient our will to God."
"Making a right estimate of ourselves involves appreciating the natural gifts that have been given to us by God, but also realizing that we are beneficiaries of God's undeserved, redeeming love. The humble person knows he cannot exalt himself, because all that he has and all that he is proceeds solely from God's generous love."  Br. David Vryhof
St Ignatius also wrote about humility. He described three kinds of humility: To humble myself to total obedience to God, to be ready for honor or dishonor, poverty or wealth, or anything else for God, and to desire poverty, dishonor, and even be a fool for God, since Christ was.
Lots to consider, isn't it? To summarize my initial action plan to dig deeper into this practice, I will:
Keep praying and learning about this practice.
Live with the mindset that there is always something to learn from everyone.
Resist the tendency to fix other people or think, "I know better."
Be honest with myself and others through listening and learning.
What do you think? Let's discuss humility as a practice for a healthy spirituality.