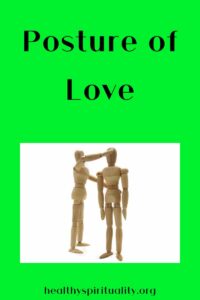 Stand up straight.
Don't slouch.
I heard this a lot growing up and perhaps you did too as our moms encouraged good posture for our physical health.
What about our spiritual posture?
This is Holy Week for those of us in the Christian church. As I read and reread the scriptures focused on the last week of Jesus' life, his suffering, his death, and his glorious resurrection, I am drawn to Jesus' posture of love. The Lord nudges me "Watch Jesus."
Posture is the position in which we hold our bodies while standing, sitting, or lying down. Healthy posture is the correct alignment of body parts. Our everyday movements and activities can affect this alignment and put stress on joints and muscles, sometimes resulting in pain and potentially permanent damage if left unchecked over time.
Posture can also be defined as how we live. Our posture toward politics, for example. Whether we lean conservative or progressive. Our posture shows our attitude or beliefs.
Watch Jesus. What is Jesus' posture showing us in how to live in correct alignment with God and others?
Jesus' posture demonstrates:
Humbleness.
Vulnerability.
Unconditional love, focused on his Father and for others.
On Maundy Thursday, we will read once again about Jesus sharing his last meal with his disciples and then surprising them by washing their feet. Jesus takes off his robe, kneels on the floor, and pours water on their feet, wiping them with his towel. 
Humbleness.
Vulnerability.
Unconditional love
On Good Friday, Jesus kneels in the garden, praying and listening to God. He expresses his human fear and surrenders his will to obey.
Humbleness.
Vulnerability.
Unconditional love.
Later Jesus's arms are stretched, nailed to the cross. Soldiers fight over his robe. Instead of water, he received vinegar and a sword pieced into his side.
Humbleness.
Vulnerability.
Unconditional love.
Jesus' posture in the Upper Room, in the garden, and on the cross teaches us how to live. All three of these postures: humbleness, vulnerability, and unconditional love are not easy to maintain but essential for correct alignment with our Creator. Oh Lord, keep reminding me!
Watch Jesus.
I hope to listen more deeply this Holy Week to the scripture, paying attention for Jesus' posture.  At the end of May, I will be watching the Passion Play in Oberammergau, Germany, a trip postponed from 2020.  God whispers once again, "Watch Jesus." 
May we all watch Jesus and learn from him.
What is Holy Week stirring up in your heart?