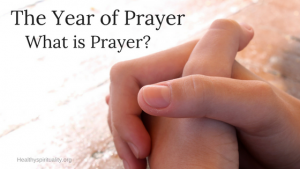 In this series on prayer we have been exploring the definition of prayer and wrestling with the question "what is prayer?"
Prayer is the spiritual practice Healthy Spirituality is focusing on in 2018 and different aspects of prayer will be shared here on the Tending the Holy Thursdays. On my Thursday posts, I pick one theme (or person of faith) to explore deeper. I call this series Tending the Holy Thursdays. This month exploring what prayer is will be the topic. And in each month, I usually provide a free download resource. Be sure to click the button at the end of the post to get your copy of "50 Books About Prayer."
If you missed the previous blog posts, you can check them out here:
Year of Prayer – What is Prayer
Prayer Reflections and Next Steps
The following two quotes drew the most comments. Both are long and meaty and well worth copying into our journals for further prayer and contemplation and conversation with God.
Don't seek to develop a prayer life — seek a praying life. A "prayer life" is a segmented time for prayer. You'll end feeling guilty that you don't spend more time in prayer. Eventually you'll probably feel defeated and give up. A "praying life" is a life that is saturated with prayerfulness — you seek to do all that you do with the Lord.
Dallas Willard
"I gradually discovered that my definition of prayer was very narrow. I had limited it to my own solitude and/or time of worship. It hadn't occurred to me that my whole day could be a prayer…Prayer is the intention of my heart. It's the difference between being with a person all day and never noticing that person or being with him or her and having a loving sense of this nearness even when no words are spoken…When I choose to hold an intentional openness with all facets of life, I can then experience being 'enclosed in the goodness of God, being one-ed with God" as the sixteenth century mystic, Julian of Norwich so aptly describes union with God. If the antennae of my spirit are alert, this 'one-ing' with God can be a regular part of my ministerial life. The paradox is however that I cannot 'make' it happen, It is purely gift. I can only be open to these glimpses of the presence which bless me."
Joyce Rupp
Today I reread the previous posts and let those words of wisdom from other writers sink in and lead my reflections about prayer. I reread the comments to see what resonated with those of you who join in our conversation. I also asked about prayer on the Healthy Spirituality Community group (please join us if you haven't already done so – we'd love to see and talk to you there). Here is a summary of my reflections on prayer.
A single focus on being united with God. Reading these quotes back to back connects them in new ways. The phrase a "praying life" reflects the hunger many of us feel in our relationship with God and the desire to be closer to our Creator.A major element to a praying life is paying attention to God's presence throughout the day and being open to finding our Lord amidst our clutter, distractions, and mundane duties. Being alert to God in every moment leads to a praying life. Prayer orchestrates hearts to beat in unison with God's heart in the rhythms of daily living. 
[bctt tweet="Prayer orchestrates hearts to beat in unison with God's heart in the rhythms of daily living. Jean Wise" username="Jeanwise"]
Soaking in God's presence. A new word emerges for me as I consider what prayer is and it comes from two words found in these quotes:  Willard writes about "saturated" and Rupp refers to Julian of Norwich's term on "One-ing."  Prayer is being steeped in the refreshing waters of God. Soaking in his spirit. Imagine life drenched in soaking prayer. I like the word soaking prayer and hope to meditate on this in the days ahead.
Scriptures shaping prayers. I didn't notice until now, but none of the quotes I shared used Bible verses. Praying the scriptures shapes our prayers and gives us a framework to understanding what prayer is too. Just this week I have been drawn to this verse and plan to take it into my daily prayers adding specific names where the word "you" is written. How powerful our prayers can be when united with the Word of God.
May the God of hope fill you with all joy and peace in believing,
so that you may abound in hope by the power of the Holy Spirit.
Romans 15: 13
Sparking active prayers and spreading the practice of prayer actively. I asked in the Healthy Spirituality community Facebook group who taught them to pray. Mothers were the overwhelming answer. What a legacy we can leave to the next generation as parents and grandparents. In a class I am taking we discussed this week that studies are showing a dramatic decrease in faith transmission from one generation to another in the 21s century. When we consider what prayer is we must be active prayers and foster the practice of prayer actively.
Surprised by the sacred gift prayer is from God. I am reading "In Constant Prayer" by Robert Benson. One chapter this week expressed:
"To begin with, any sort of prayer is built around the premise that we are in conversation with the God of the Universe…a priest or a minister will say, "Let us pray" and we will all just bow our heads as through nothing out of the ordinary was about to take place. What is about to take place is that we are about to presume to talk to the One who made heaven and earth and presume that we will be heard…There is something so astonishing about the whole notion of talking with God that sometimes I just want to lie down for a few minutes and catch my breath."
Stop and think about the simple definition of prayer as "just" talking with God – us mere mortals chit chatting with the Almighty. Fleeting lives complaining, whining, demanding action from the Lord. Neglecting, forgetting and bossing around the one who created us and gave us life. This just blows up my explanation about what prayer is, knowing I will never fully comprehend the value of this gift from God.
Prayer has so many facets that words can't capture its full meaning.
Prayer is both simple and complex.
Prayer is both clear and inconceivable.
Prayer is both talking and listening.
Prayer is both doing and being.
Prayer is for us and for others and always for God and with God.
Prayer is God. God is prayer.
Prayer is….I can't find the words.
How has your concept of prayer changed? What one aspect of prayer is surprising you and expanding your definition of prayer?