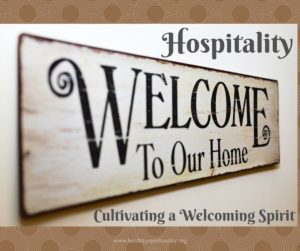 Inspiring quotes and encouraging resources cultivate hospitality within our hearts.
Exploring the practice of hospitality and cultivating a welcoming spirit is the topic for September's Tending the Holy Thursdays.  So far I have shared an overview of hospitality and tips for nurturing a welcoming spirit, especially for those of us who are introverts.  You can click on the highlighted words in the previous sentence to find those blog posts if you didn't get a chance to read them.
When I feature a spiritual practice or a person of faith, I usually write an additional resource to share with you.  This month I wrote a free download to accompany this study, titled "15 Thought-Provoking Definitions of Hospitality."  You can get it at no cost by clicking on the button at the end of the post. It is my hope and prayer that this series and the tip sheet will enhance your walk with God.
I find the tiny bits of wisdom in quotes often give me much insight into a topic– sometime more than in a full blown lecture packed with words! Also I have explored several books and internet resources to share with you today.  Next week, we will wrap up this look into hospitality with a summary of all the lessons we have learned.  Begin to think about this yourself: How has your perspective on hospitality changed as you read these blog posts?
Quotes for Cultivating Hospitality
I have already shared many quotes in the past two post so encourage you to reread those words once again too.  Here are some new ones:
The heart of hospitality is when people leave your home they should feel better about themselves, not better about you.
Shauna Niequist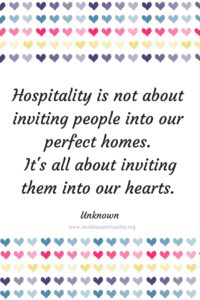 Offer hospitality to one another without grumbling.
1 Peter 4:9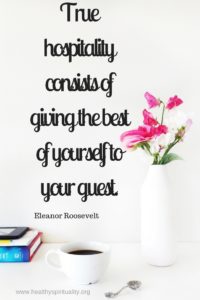 Hospitality is one form of worship.
Jewish Proverb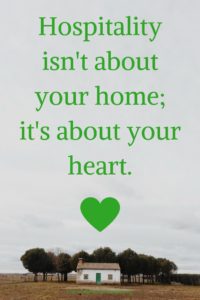 Hospitality is the practice of God's welcome by reaching across difference to participate in God's actions bringing justice and healing to our world in crisis. 
Letty Russell
********
Listening is much more than allowing another to talk while waiting for a chance to respond. Listening is paying full attention to others and welcoming them into our very beings. The beauty of listening is that, those who are listened to start feeling accepted, start taking their words more seriously and discovering their own true selves. Listening is a form of spiritual hospitality by which you invite strangers to become friends, to get to know their inner selves more fully, and even to dare to be silent with you." 
Henri Nouwen
*********
We show hospitality to strangers not merely because they need it, but because we need it, too. The stranger at the door is the living symbol and memory that we are all strangers here. This is not our house, our table, our food, our lodging; this is God's house and table and food and lodging. We were pilgrims and wanderers, aliens and strangers, even enemies of God, but we, too, were welcomed into this place. To show hospitality to the stranger is, as Gordon Lathrop has observed, to say, "We are beggars here together. Grace will surprise us both."
Thomas G. Long
Resources for Cultivating Hospitality
Here are some books I read while diving into this spiritual practice:
Hospitality- The Sacred Art – by Nanette Sawyer
A Christian View of Hospitality – Expecting Surprises – by Michelle Hershberger
Radical Hospitality – Benedict's Way of Love by Lonni Collins Pratt
Here is an interesting  2 minute video about Hospitality by Christine Pohl:  If you are reading this blog by email, you will probably have to go to the blog to see the video.  I hope you do!
One of my favorite website: Spirituality and Practice has a number of references to the discipline of hospitality. You can read more on this resource here and here.
Don't forget I created a free download to accompany this study, titled "15 Thought-Provoking Definitions of Hospitality." In addition to the definitions listed there, you will find blank spaces to journal your thoughts after each quote and a place to write down more meanings to this word.  You can get this free by clicking on the button below.  
Click Here to Get the Resource on Hospitality
Be sure to sign up to get Healthy Spirituality in your inbox so you don't miss any of the weeks (I promise I never over send stuff to you). And invite your friends to this blog and share on social media.  I sure do appreciate the support in spreading God's word.
Let's continue our discussion about hospitality. What new insight have you learned about hospitality? Which quote did challenged or resonated with you?