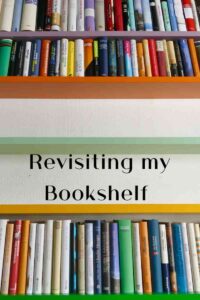 This month I have been revisiting my bookshelf, spending time with "old friends" and seeping in their wisdom.
On the August 8 blog post, I shared this wonderful quote about the value of this practice:
"A truly great book should be read in youth, again in maturity and once more in old age, as a fine building should be seen by morning light, at noon and by moonlight." – Robertson Davies
Today I will finish with a book that I didn't originally consider, but leaped into my heart for rereading after revisiting my bookshelf.  My own journals!
Harvesting my Journals
Harvesting my journals is my practice of rereading past entries, highlighting thoughts, and noticing patterns and lessons. Asking questions is another powerful tool to harvesting a journal. What lessons did God teach me this year? Does a single word or phrase jump out? Is there a recurring theme, such as discouragement or anger and is there any insight to this repeating affliction? Has something been left undone? A forgotten joy experienced?
I do this irregularly, maybe every couple of months, but I do reread the entire past year in late December summarizing the past 12 months.
Harvesting a spiritual journal is powerful and what I call the "secret sauce" to reaping benefits from the practice of keeping a journal. Rereading and reviewing your journal writings offers insights, deepening perspectives, and a clear vision of God's active participation in our daily life.
Would you till a garden, plant seeds, weed diligently and fertilize faithfully – and then forget to harvest the fruits of your work? Of course not.
But many people who keep journals of their thoughts, prayers, and events of their lives miss out on the joys and lessons that come from rereading or harvesting their journal.
"Keeping a journal has taught me that there is not so much new in your life as you sometimes think. When you reread your journal, you find out that your latest discovery is something you already found out about five years ago. Still, it is true that one penetrates deeper and deeper into the same ideas and the same experience." Thomas Merton
Here are a couple of older blog posts about this practice you may want to read:
13 Tips for Keeping a Spiritual Journal
Old Journals – Keep or Destroy?
Lessons Learned from 43 Years of Keeping a Spiritual Journal
Lessons so Far
I did sit down this past week and reread my current journal. Several lessons emerged:
My borrow prayer, the Suscipe from St Ignatius, has brought me closer to God.  "Borrowed" prayers are an essential tool in our prayer toolbox.
I read repeatedly about a budding sense of call from God, a change, maybe transformation, that is not yet clear but echoes in my scribbles and words.
Prayers (many of them) ARE being heard and answered.
An overwhelming knowing how much God loves all of us, no matter who we are or what we have done.
My need for community, tough for an introvert to admit. I grow through speaking with a spiritual director, my spiritual direction group, and friends.
I encourage you to reflect on your own spiritual journey so far this year. Maybe an older read from your bookshelf or even from your own words holds wisdom that can light your way.  May books, as spiritual friends, continue to open our hearts and draw us closer to God.
Have you revisited your bookshelf? What books have you reread?