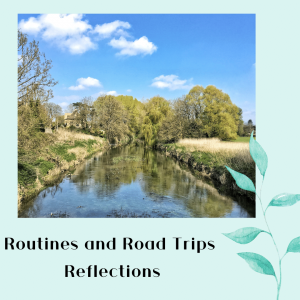 Ever notice that the word "routine" shares the root word matching the word "route?"
When I hear "routine", I assume images of dull, everyday schedule of events – predictable and repetitive. I often think of routines occurring while I am at home or on ordinary days, yet tucked away in this mundane word is a journey, a path, a "route" away from the average and into adventures.
We just returned from a family trip to Disney World, journeying into a place far from my usual schedule.  As I reenter into the pace and place of home and the return of chores, calendars, and commonplace, I savored the return to routine.
I compared and contrasted routine and adventures in this post blog written several years ago.  Both offer refreshment for the soul in their own unique ways and God is in all moments.
God modeled for us in Genesis, a rhythm of productivity and rest. He dreamed, created, shaped the universe, stepped back savoring in its magnificent beauty and declared it all good. Our church sermons lately have been from Mark 6 – Jesus touched others in his busy ministry. He healed. Taught. Fed 5000. Grieved the death of John the Baptist and walked on water. Buried in the middle of all this action – he went up on the mountainside to pray.
Routine.
Rest.
Did I rest at Disney World? We visited all the parks, swam in the pools, tried new snacks. One day my Fitbit measured more than 29,000 steps, and I averaged 25000 steps each day. In August we sweated in the parks, waited in lines, and gazed fascinated (yes and with tears in my eyes) at nobody-does-it-better-than Disney fireworks.  Me who busies her brain planning ahead, living in the future, and worrying unnecessarily, relished each day the present gift of being with family, strengthening relationships, and sharing joy. I felt blessed.
Paying attention, no matter if spending time with routine schedules or off to an exotic location – we behold the present and breath in refreshment. All life is an adventure when we open our eyes and heart to God's gifts.
Pay attention, then cherish wherever you are. One of my best memories of this trip occurred on the plane ride home. All three kids wanted window seats, so we split them up with the adults (three kids, four adults). I settled into my seat anticipating a nap and quiet time to read.
One of the 10-year-old twin boys had a different plan. He chatted non-stop all the way home. Even the couple who said behind us said when we disembarked, "he is quite the talker and definitely entertained us on this trip."
Kastin peered out the window saying, "Oh my, how lovely." "Look at that cloud – I think I could jump from one to another." "Those cars down there are so tiny." He described every wonder he witnessed, and my soul woke up to God's beauty, especially in the delight of a grandson. I cherish that memory.
I am grateful for God's lessons in both routine and road trips.
What are lessons you are learning from routines and road trips?  How are you resting in the midst of productivity?