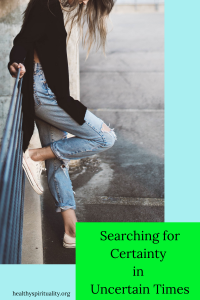 Searching for certainty? Aren't we all seeking solid ground in this crazy upheaval of a year we are living in?
Searching for certainty, if I am honest, has always been a need of mine. How about you?
Shelly Miller's Searching for Certainty
Searching for Certainty is the name of a new book, released today, by my friend and fellow writer, Shelly Miller.
Searching for certainty always leads me back to the certain, faithful God of all.
I read an early copy of Shelley's book and her words made me realize how often uncertainty has influence my thoughts and behaviors. She shared her shaky times in her life and then surrounds her story with wisdom and grace. Each chapter ends with amazing thought-provoking questions to take to God through prayer and journaling.
Ironically Shelly wrote this book long before the pandemic arrived at everyone's doorstep – God prepared her heart to share these insights just in time to provide strength, wisdom, and encouragement for all of us. Here are a few quotes from Searching for Certainty:
"Your uncertainty is God's opportunity to release the abundance planned for your life".
"Uncertainty provides rescue from being stuck in the familiar ways of life that keep us from moving forward into the purposes of God."
"Reframe uncertainty through the lens of certainty of God's love, and interpret current events from the perspective of promise that is never revoked. What are the images of life that you are holding onto that create false narratives? What is God saying that the headlines are not declaring? What is anxiety communicating that the Comforter is not responding to?"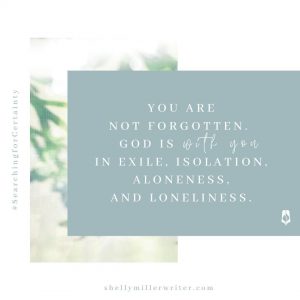 "The promises of God to us are rarely realized by traveling in the familiar, straight lines without inclines, roadblocks or interruptions."
"Disruptions in life break familiar habits that foster self-sufficiency because we are created to be reliant on God."
"The fear of uncertainty is rooted in this belief: God won't meet me in the way I am desperate for him to show up. And our greatest certitude is this: God is already in the room."
"When life becomes two-­dimensional, flat, and lifeless due to uncertainty, framing your situation from a different angle provides new discovery—­from being alone and exiled by your circumstances to being accompanied by God, the author and caretaker of your story. What looks tired, fallow, and unusable in your life is often God's useful preparation for a new season he is planning. Survey your surroundings—­crouch down, look up, tilt your head sideways, and capture the scale and depth of God's love."
"Gratitude pulls the weeds from the landscape of uncertainty"
My Own Search for Certainty
God is inviting us to glean good grain from 2020. These times of uncertainty, unknowns, and upheaval reveal God's presence – He is with us even in dark times. God is the assurance, the light, the rock to firmly plant our feet when the earth shakes in fear.
Uncertainty has reminded me who God is and that he calls each of us his beloved child. Knowing God and that I am his child reassures me that yes my name is engraved on the palm of his hand and his love drenches my heart and washes my doubts away.
I remember to pause, pray and name what I am experiencing. Bringing negative emotions into God's light reveals its limitations and curtails its power. I won't allow fear to win.
I seek God – his strength, not my own.
I proclaim with gratitude what I do have – not what I no longer cling to.
God is the solid foundation, the Rock upon which I stand.
I haven't like living with overwhelming uncertainty. I suspect this negative feeling lurked in all of our lives previously, but 2020 intensified its influence upon our collective hearts.
What does this different, unsettling year make possible for our faith? I find trust is being nurtured in new ways in my soul. Confidence and reliance on God moment by moment, day by day.
God clearly confirmed in uncertainty.
What are you discovering about God during 2020?