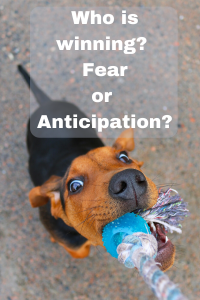 Who is winning? Fear or anticipation?
I have wrestled with both of these emotions while in the present strange and uneasy moments of history we are living in. My head and heart push the panic button easily in this environment spinning out of control on the roller coaster of dealing with so many unknowns, the cancellation of multiple long-awaited life events, and the likelihood of more interruptions looming in the near future.
Uncertainty amplifies fear.
Fear saps the joy and energy from anticipation.
So much of this pandemic has been dealing with naming and tackling various emotions and with God's help, growing stronger and wiser with each lesson.
Looking forward to things is half the pleasure of them.     

Lucy Maud Montgomery
I am battling with fear trying to win over the anticipation of good things to come.
This morning I realized the struggle was not fear or anticipation, but the solution was fear and anticipation.  Not either/or, but both/and.  In reality, this is life – living and thriving hand in hand with both emotions. Quit fighting, Jeanie.
I love Emily P Freeman's weekly podcast, The Next Right Thing.  In episode # 130 she says,
"I was curious about what it would look like to have a more welcoming posture as it related to anxiety, which I realize might at first sound counterintuitive, but the more I learned about anxiety and worry, the more I'm realizing what the experts say is true. That if you try to push anxiety away, it only makes it worse. But when I welcome it, or at least acknowledge its presence in the room, I have a better chance of knowing what to do next rather than spending all of my energy trying to get rid of the fear."
Emily referred to Elizabeth Gilbert's book Big Magic which sits on my upper shelf, the place of honor for only a few books, ones that touched my soul.  I looked up the full text of the quote shared in Emily's podcast written by Gilbert:
"I even have a welcoming speech prepared for fear, which I deliver right before embarking upon any new project or big adventure. It goes something like this: "Dearest Fear: Creativity and I are about to go on a road trip together. I understand you'll be joining us, because you always do. I acknowledge that you believe you have an important job to do in my life, and that you take your job seriously. Apparently your job is to induce complete panic whenever I'm about to do anything interesting—and, may I say, you are superb at your job. So by all means, keep doing your job, if you feel you must. But I will also be doing my job on this road trip, which is to work hard and stay focused. And Creativity will be doing its job, which is to remain stimulating and inspiring. There's plenty of room in this vehicle for all of us, so make yourself at home, but understand this: Creativity and I are the only ones who will be making any decisions along the way. I recognize and respect that you are part of this family, and so I will never exclude you from our activities, but still—your suggestions will never be followed. You're allowed to have a seat, and you're allowed to have a voice, but you are not allowed to have a vote. You're not allowed to touch the road maps; you're not allowed to suggest detours; you're not allowed to fiddle with the temperature. Dude, you're not even allowed to touch the radio. But above all else, my dear old familiar friend, you are absolutely forbidden to drive."
I love images and felt empowered to know fear is part of my journey, but not the driver. The picture of a car trip with fear as part of the adventure but not the one in control reminded me to give myself grace in my normal human reactions. Perhaps this will help you today too.
For God has not given us a spirit of fear, but of power and of love and of a sound mind.

2 Timothy 1: 7
Thank you, Lord, for teaching me this lesson. Fear is such a basic human reaction and one I will grapple with throughout my life. Thank you for creating a strong visual for me and helping me quiet the voice of fear and to look forward with anticipation and joy all the gifts walking with you into the future will bring.

What do you think of the tension between fear and anticipation? What helps you manage these emotions?