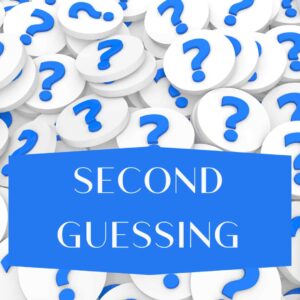 Second guessing – I get caught in this mood quite a bit. Do you find yourself second guessing your decisions, motives, and actions? Me too.
When I pay attention to my thoughts, I confess I fall into this trap more often than I realize. Then I listened to a directee in spiritual direction last week who also got stuck and weighed down with overthinking.
We second guess ourselves. We second guess God.
I decided to do some reading and research about this human behavior and seek God's guidance in managing this habit. Second guessing can be a beneficial but also if it dominates our thoughts and stirs our anxiety can lead to procrastination, indecisiveness, and lack of peace and joy.
What is Second Guessing
Second guessing can be defined as overanalyzing our decisions after they are made. We wonder if we have made the best choice or not. This is a normal human reaction but we don't have to allow it to ruin our day or run our lives.
Doubts and fears cause inaction or at the very least overwhelming negative self-talk. This process slows our progress and steals contentment and peace. We beat ourselves up and allows overthinking to eat at our soul.
It sounds like this:
Did I make the right decision?
What if…. (Insert worst case scenario here)
What if this doesn't work?
Maybe this choice wasn't the best one, I wonder…
Worrying about other people's reactions and judgments.

The Bible says "…he who doubts is like a wave of the sea driven and tossed by the wind. For let not that man suppose that he will receive anything from the Lord; he is a double-minded man, unstable in all his ways" (James 1:6, 7).
I know the truth lies in making the best decisions with God. His will. His direction in all I decide, think and do. Then trust him and live in faith. As Christians we often too quickly say to another person caught in second guessing "trust God." The Band-Aid to a hemorrhaging heart is hard and though it IS the best answer as humans we need tangible advice too. Little steps that enhance my faith and strengthen my confidence in God's wisdom will build my trust in God.
Tips to Try
Here are some of the tips I discovered to handle second guessing. Let me know what you think.
Pray – Be honest with God about the hesitant about the decision. Listen quietly for clarity and reassurance.
Talk – Find trusted friend or spiritual director to discuss out loud your fears, doubts, and concerns.
Write – Journal all the "what if's." Putting words to our fears often bring them to light and they fade away or become less disruptive.
Stop – Stop any negative self-talk. Thank that inner critic for trying to protect you then remember why you made the decision in the first place.
Grace – Give yourself grace. Making a decision sometimes forces you to grow in areas where you're not comfortable. When you second-guess yourself, it's usually because of that discomfort.
Adapt – Sometimes that second guess may be correct. You can learn just as many things from wrong decisions and mistakes as you can from good decisions. Apologize if needed. Correct your actions and move on.
Trust – Trust God. Keep listening. Pay attention to the direction, the next steps God shows us. Trust in God is the antidote to worry and overthinking.
How do you manage second guessing? I'd love to hear more ideas!