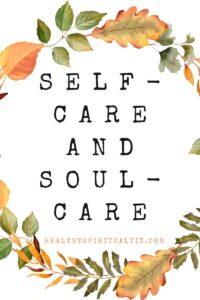 Intense. Crazy. Simultaneous life-draining and life-giving work.
This is my life right now.
God has called me to be a writer. I also know his calling to work as a Deacon and spiritual director.
Both missions are in a season of intense deadlines and demands right now.
Yet I feel God's peace, strength, and accompaniment through this turmoil.
Much of my time currently involves a major rewrite (the best writing is rewriting) of my book manuscript due in mid-October while at the same time, the pastor I work with is on sabbatical and I am covering for her until she returns about the same date as my book deadline.
Yet I feel God's peace, strength, and accompaniment.
Why is this time different from previous times of upheaval in my life?
Self-care and soul-care.
I stumbled to standing firmly on these two fundamentals without much forethought. I knew this time was coming, was limited, and would require my best physical, mental, and spiritual self. And I am so grateful God invited me into his work while providing his wisdom for self-care and soul-care too.
I let go (some temporarily) of other commitments.
I established boundaries on my time.
I say no. Not at this time.
I continue to exercise and try my darndest to eat within my Weight Watchers plan.
I am adamant in getting to bed on time and rising early for a regular schedule.
I rarely miss my morning time with God.
I purposely added an afternoon devotional time, just sitting, and listening to the Lord.
I breath. Deep breathes. Breath prayers.
I make time for at least 15 minutes to read each day. Well, most days.
I am aware of pacing myself – valuing and savoring snatches of time during the day to sit and rest.
I hold lightly my agenda, calendar, and endless to-dos list, allowing for interruptions and changes. I trust God's timing.
I light my pumpkin spice candle and contemplate its flickering flame.
I am practicing to not getting caught up in "anticipatory anxiety" by trusting God and not worry (this one is hard) about other people's drama.
Yet when I am with someone, I focus on being fully present to their spirit.
I behold the holy ground in visiting the ill, the lonely, and the frightened. What a humbling honor to share communion and prayer with the dying.
Daily I assess the slow color changes in the trees outside of my office window, enjoying their transformation of the season, knowing I too am being transformed in this season.
I practice gratitude for being able to work, contribute, learn, love, and grow through all the ups and downs on this life's journey.
I listen. I enter the silence and stillness of God's whispers, leaning into his guidance and formation.
In some ways this list is long and detailed, but I am amazed how caring for myself and my soul has easily unfolded. God is so good.
How are you caring for yourself and your soul? How are you practicing self-care and soul-care?